… But mostly this is a story about bears.
For the past few weeks, we've watched the cherries in our orchard continue to ripen as the time for harvest approached. We also watched a couple of black bear cubs– who we've named Shawn and Gus– visit the orchard. On at least four occasions, we'd be coming up the driveway and see the two of them scrambling to get out of the orchard, like kids caught sneaking cookies. We're sure they're the same mischievous cubs Kyra and I spotted climbing our tree.
I didn't mind that they nibbled on a few cherries here and there. After all, we have 92 trees, and they were looking good. I didn't mind, that is, until yesterday. That's when we took a walk around the orchard in preparation to have it picked, so we could sell our cherries and make back the money we've spent managing the orchard all year (pruning, watering, spraying, mowing).
We discovered that the bears had pretty much picked the entire orchard clean. As in, many of the trees didn't have a single cherry left. There were a lot of instances of this: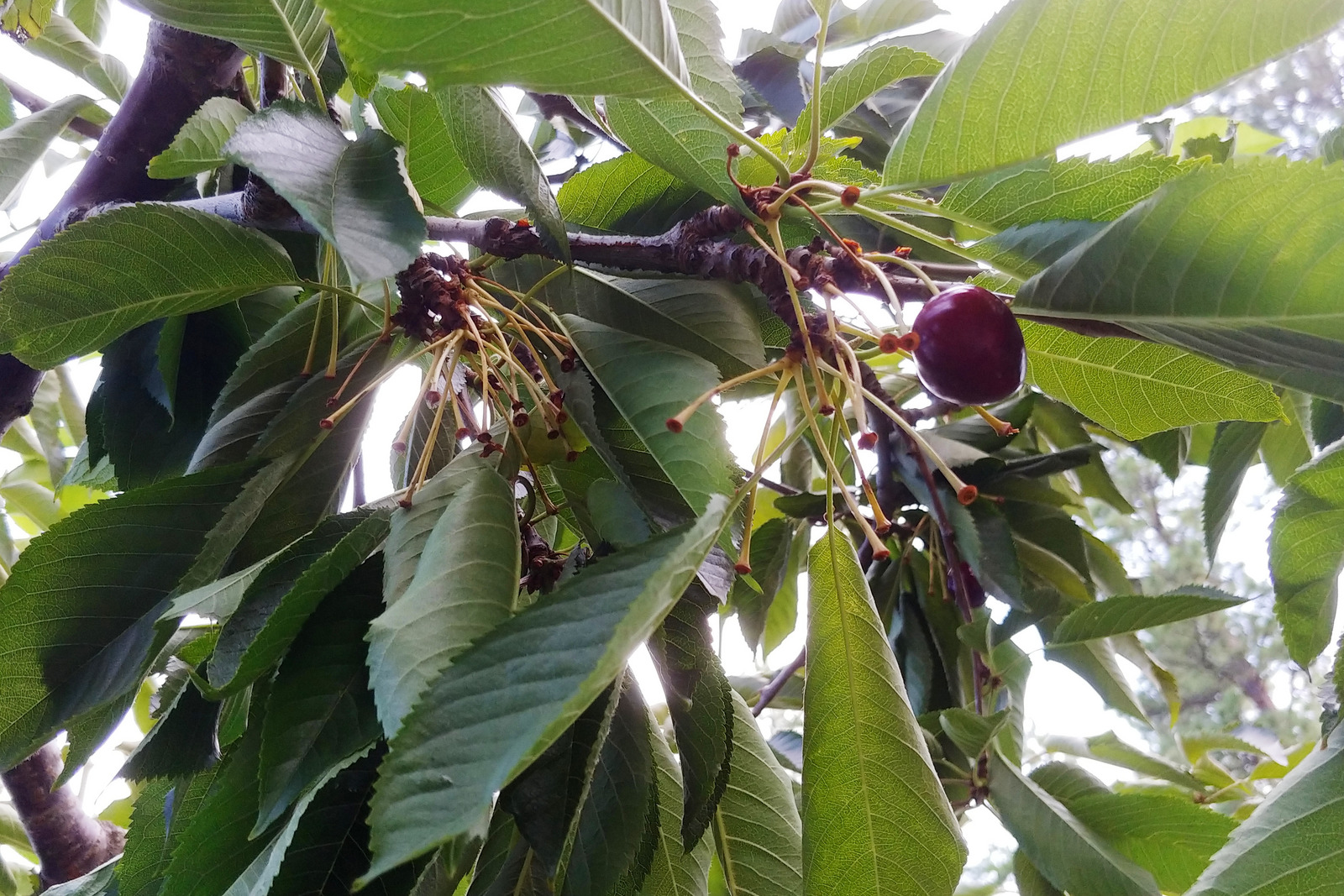 Notice all the cherry stems without cherries. This particular tree had literally this single cherry on it. Several trees had broken branches, because bear cubs climbing to get the high cherries can be heavy: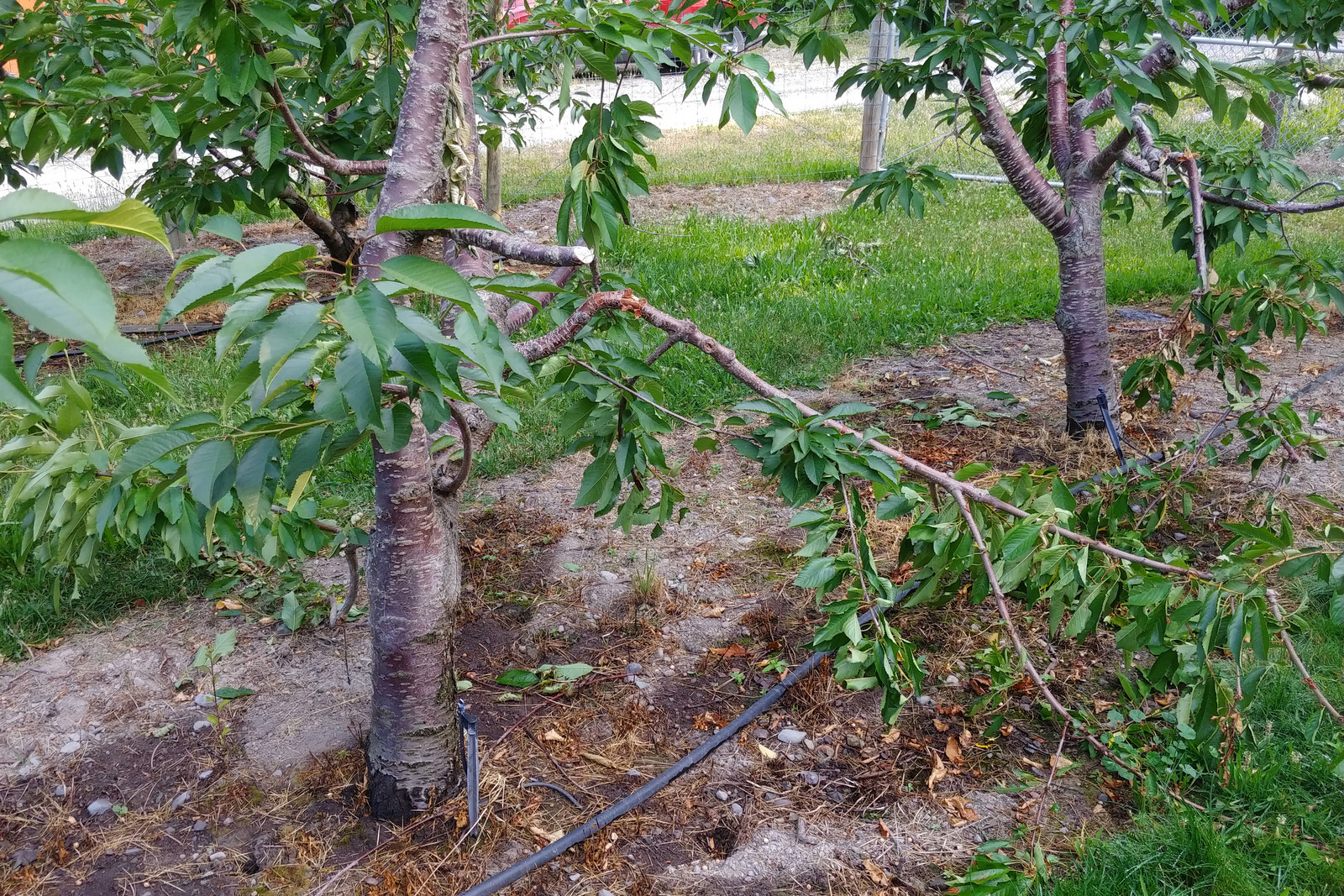 Although I would love to see a bear cub in a cherry tree fall down when the branch under him breaks, it was pretty clear that these guys had systematically eaten through our orchard. The only trees with any berries at all were near the driveway, and I suspect it's simply because the bears hadn't had time to get to them yet. Give them another day or two, and those trees would've been empty as well.
So, this morning we went out and picked everything we had left. It was actually kind of fun.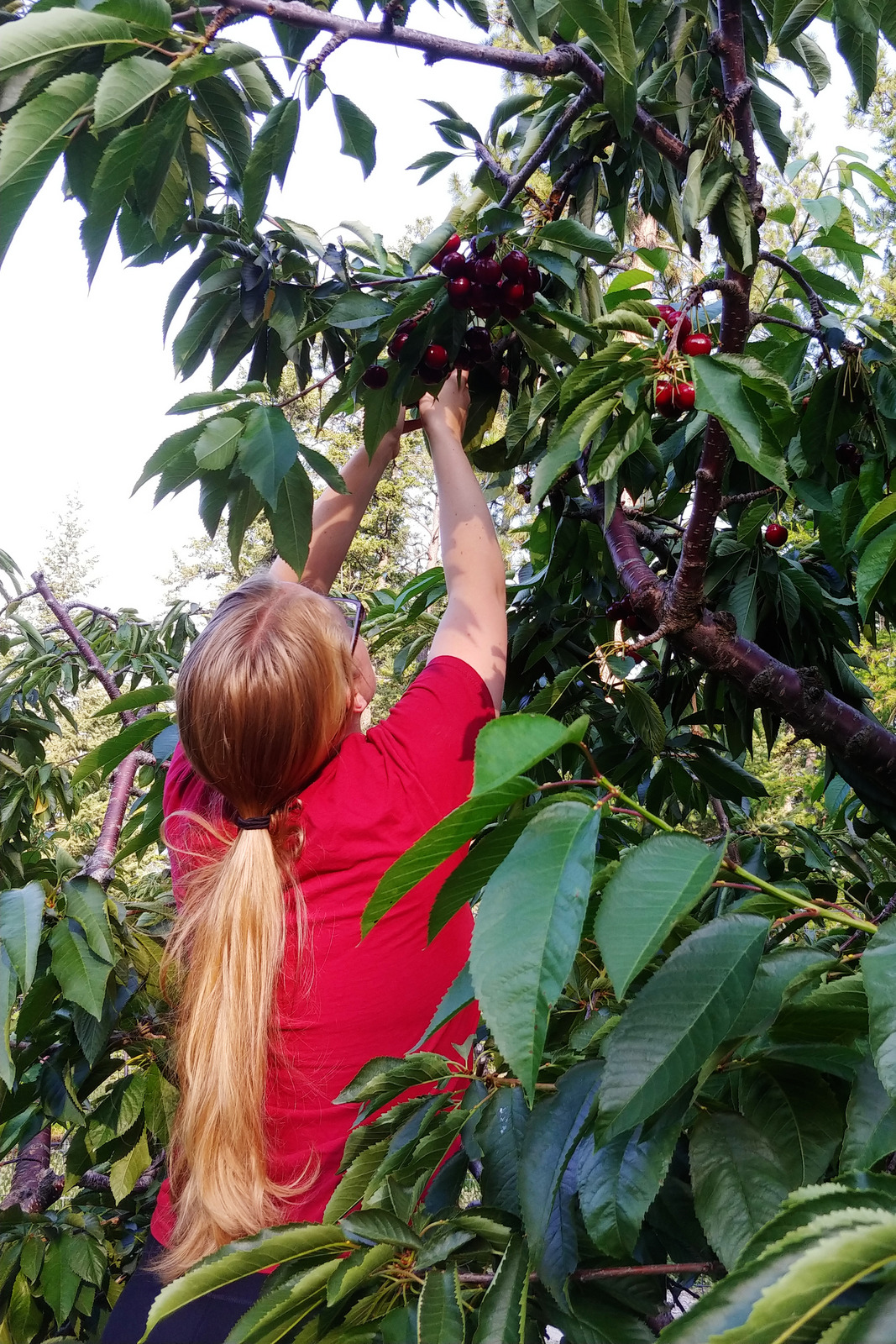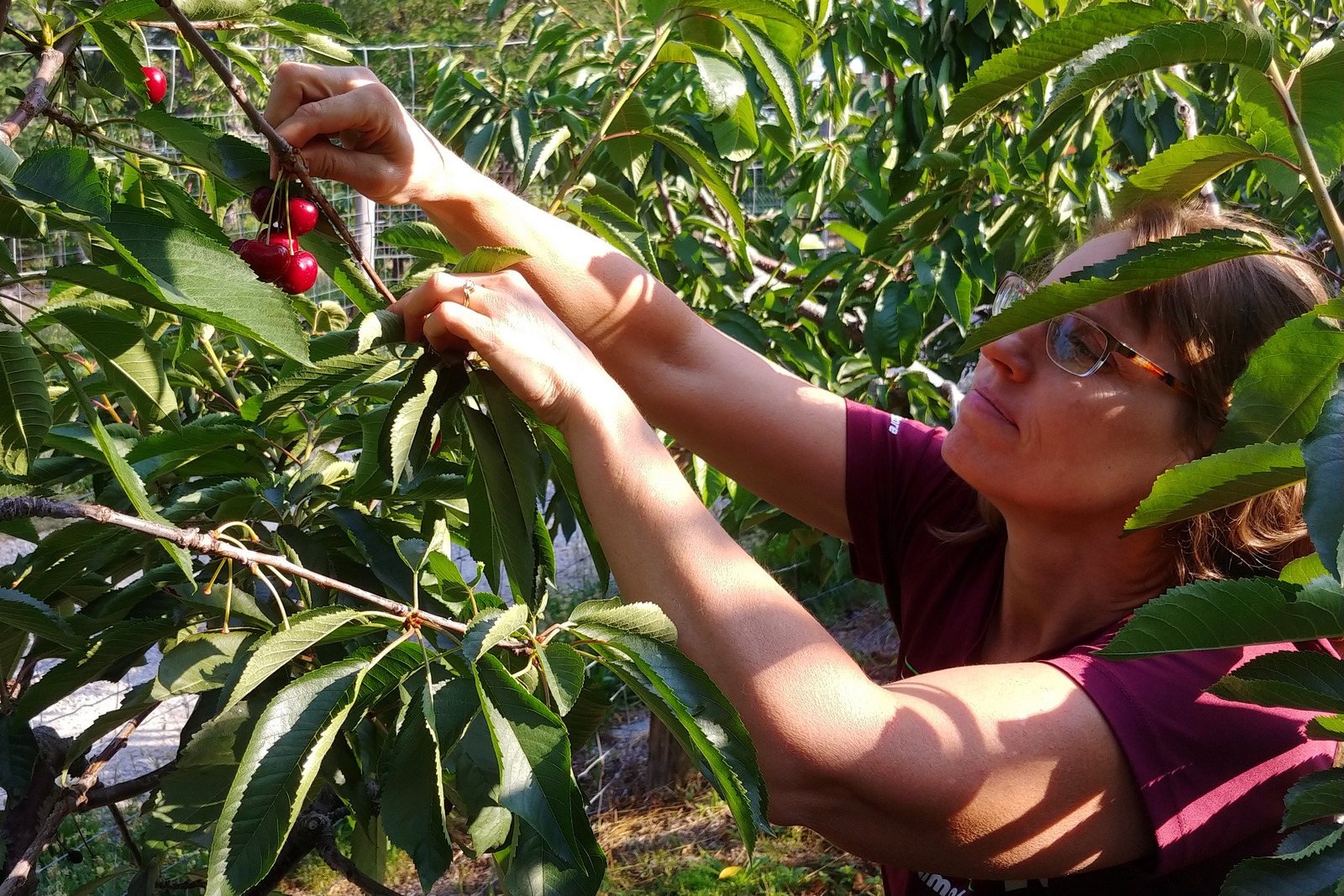 Here's Pepper picking the sun! Just kidding– it was an accident but kind of a fun shot.
There were a few cases where there were a bunch of cherries still on the branch: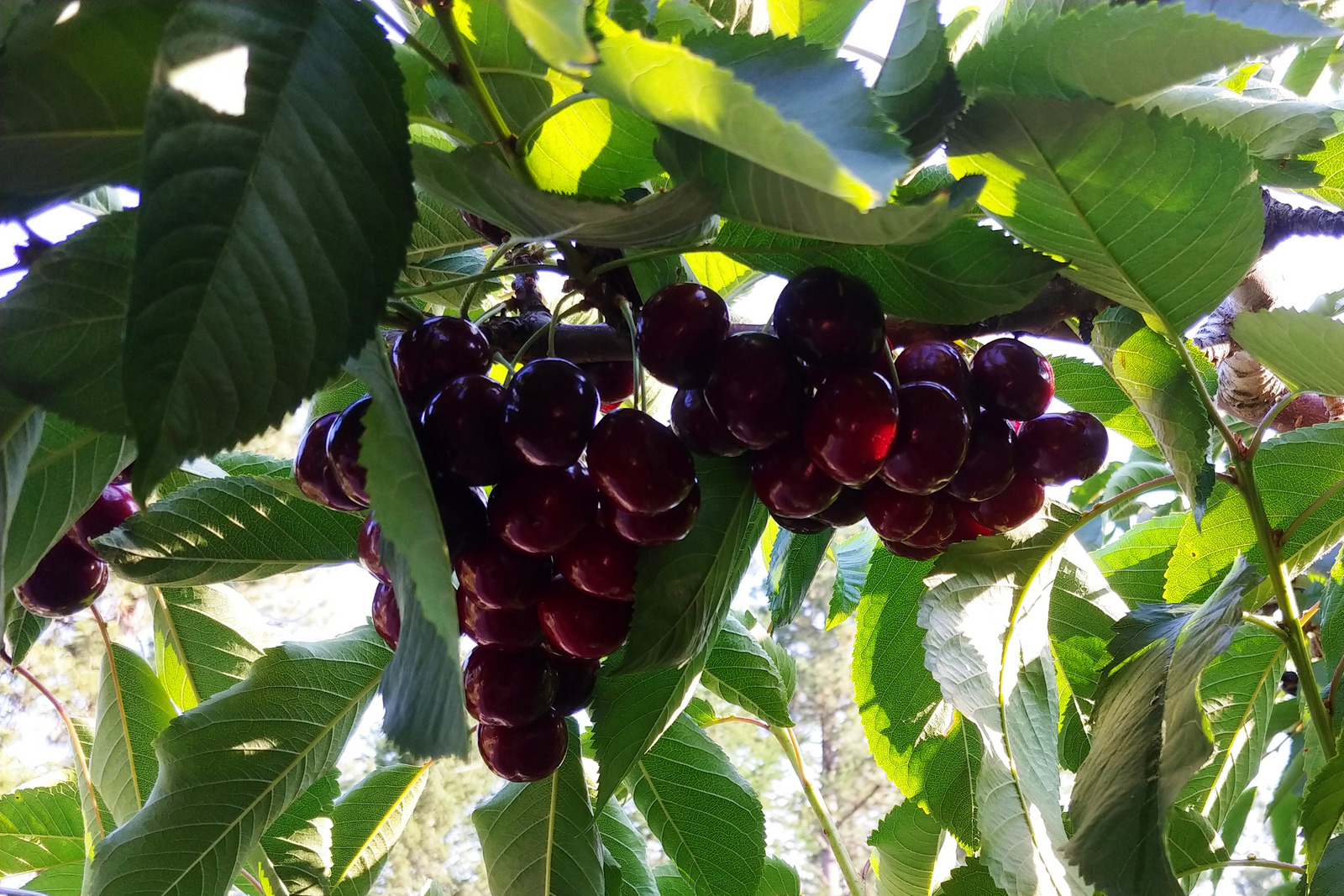 Of course this should've been the case for nearly all of the trees, not just two or three of them.
While we were walking through the orchard looking for any remaining fruit, we had to avoid stepping in the bear scat that was littered throughout.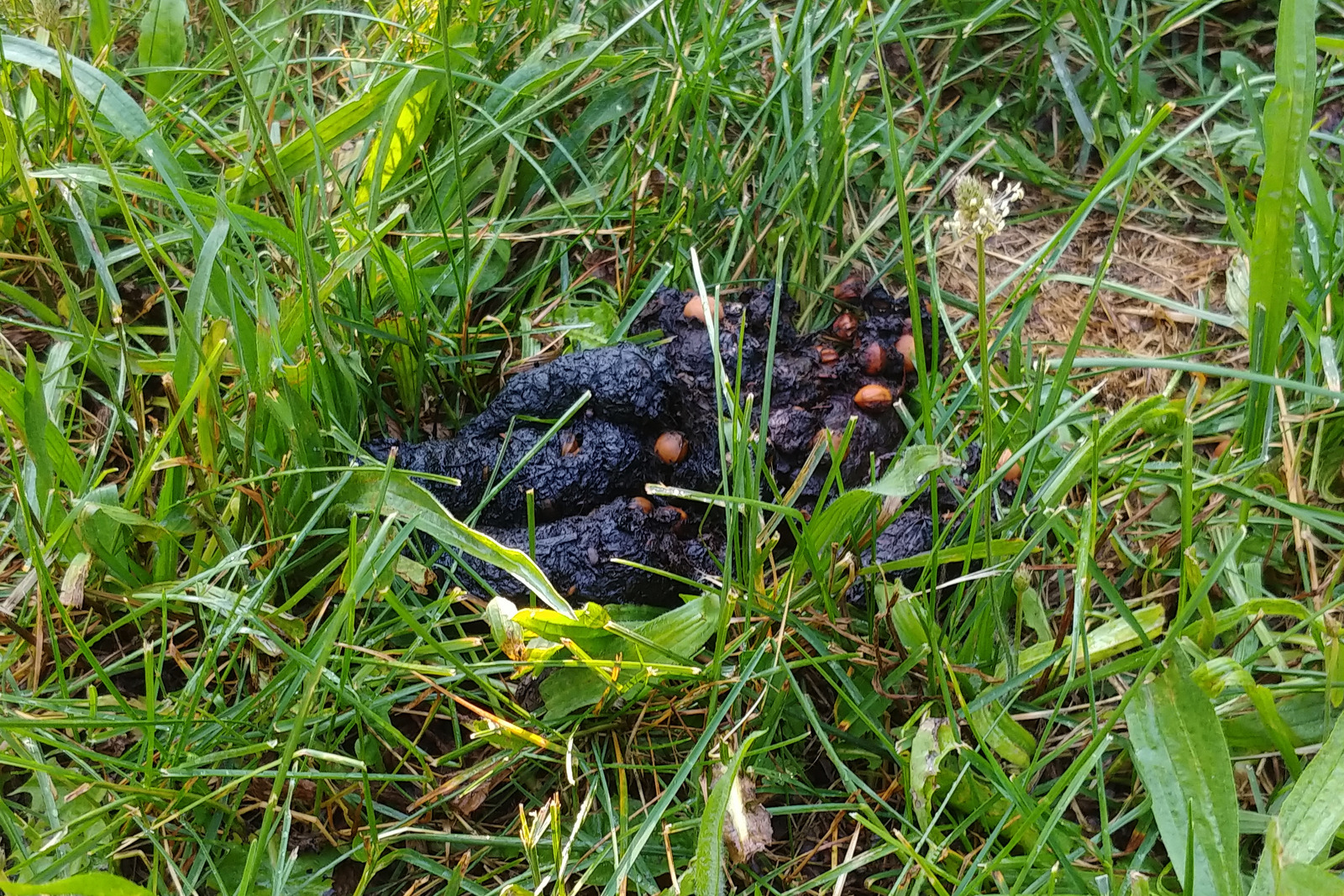 Yes, that's right, I have a photo of actual bear poop on my blog. Notice all the cherry pits in that one. Sigh.
After an hour, we'd picked the orchard clean. We ended up with three half-buckets of fruit: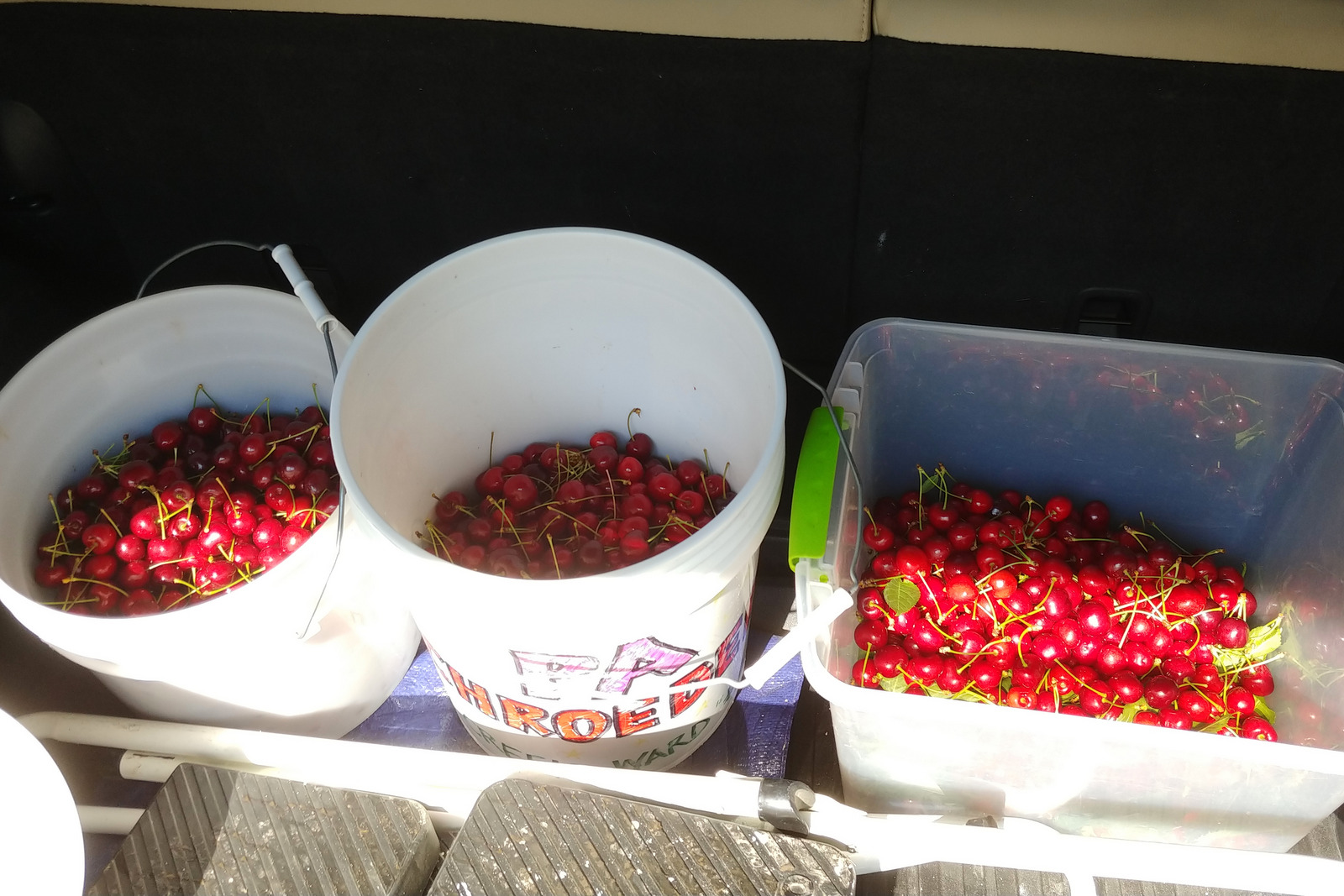 According to some friends in the business, in an average year our orchard should easily produce around $5,000 in fruit (of which we'd get roughly half; the other half would go to the pickers). Today we ended up with $0.
On the bright side, I spent the afternoon driving to various friends' houses, giving all of them a couple pounds of cherries. They all loved it. And we have a few pounds left for ourselves, which I'm sure will get eaten soon. They're delicious.
So, yeah, we learned a few lessons for next year…