For two and a half years, we've been using our "it's only temporary" setup with a TV sitting on a piece of plywood which in turn sits atop two big Yamaha speakers. It works, but it looks ghetto and the TV is way off-center for everyone on the couch except the one Sweet Spot. I finally decided to do something about it.
First, I imagined what it might look like if the TV was mounted on the wall with in-wall speakers for left, right, and center channels.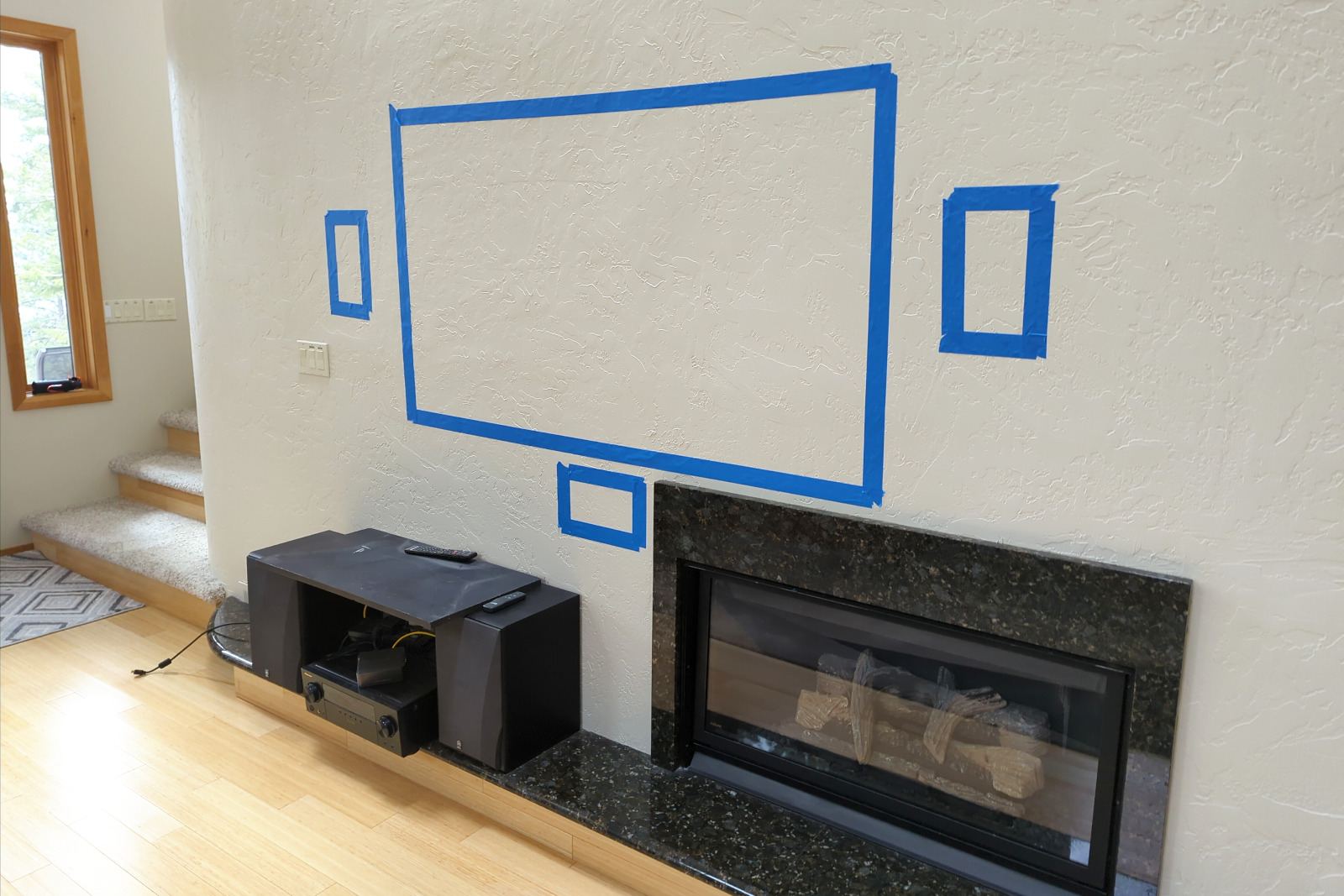 It's tricky with the fireplace, of course, because you shouldn't mount a TV– or any nice, expensive, meltable thing– right above a fireplace. After some discussion, though, we agreed we never really use the fireplace anyway, so it'll be fine. I called a drywall guy to see if he could patch up the holes I'll inevitably make, and then re-texture the wall to match the rest of it. To my astonishment, he said he could do the work three days later. I'm used to having contractors tell me their schedule is booked months in advance. This meant I had to really get cracking.
After a deep breath, I took a drill and a compass saw and went to work dissecting the drywall. I had no idea what to expect back there; with the fireplace and some closets on the back side of the wall, it was anyone's guess. Sure enough, the studs were kind of a hodgepodge.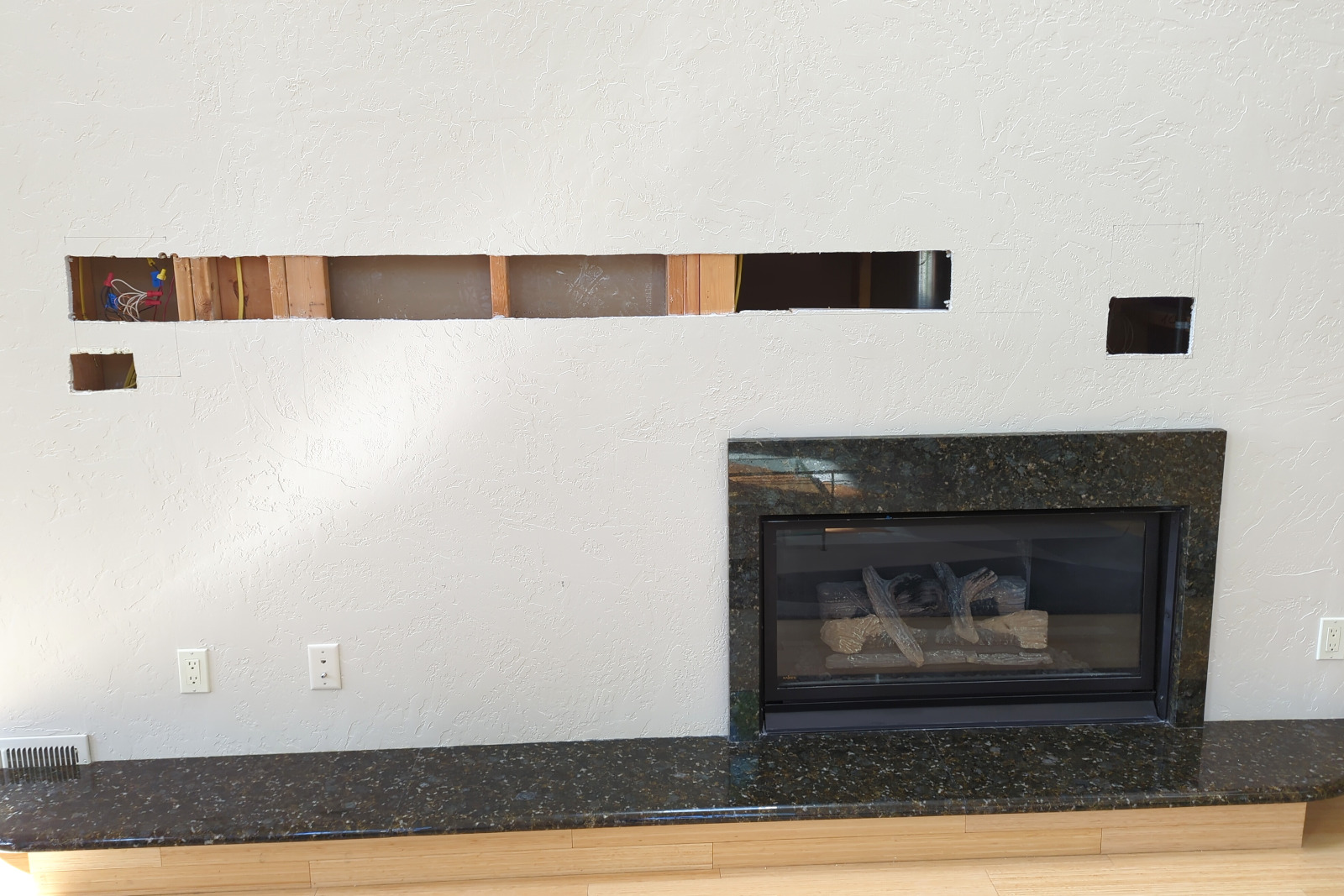 I minimized the drywall I removed, because this was mainly a voyage of exploration. As it turned out, the placement of the studs dictated where the speakers could go. On the left, there's only one space wide enough. On the right, there's a big horizontal support just above my cut, pushing both speakers down a bit. And sadly there's not a space for a center channel, because there are three studs alongside the fireplace and they shouldn't be cut.
My favorite part was removing the three-way switches that control our ceiling fan, and being reminded of the Switch That Does Nothing. Thom and I discovered it a few years ago when meddling with the electrical stuff. You can see how it has a single line wire coming in, but nothing coming out. (The brass is the ground, of course.) I have no idea why you'd wire something like this. It does, however, explain the roughly half-dozen other switches scattered through the house that I can't figure out… they probably also go nowhere.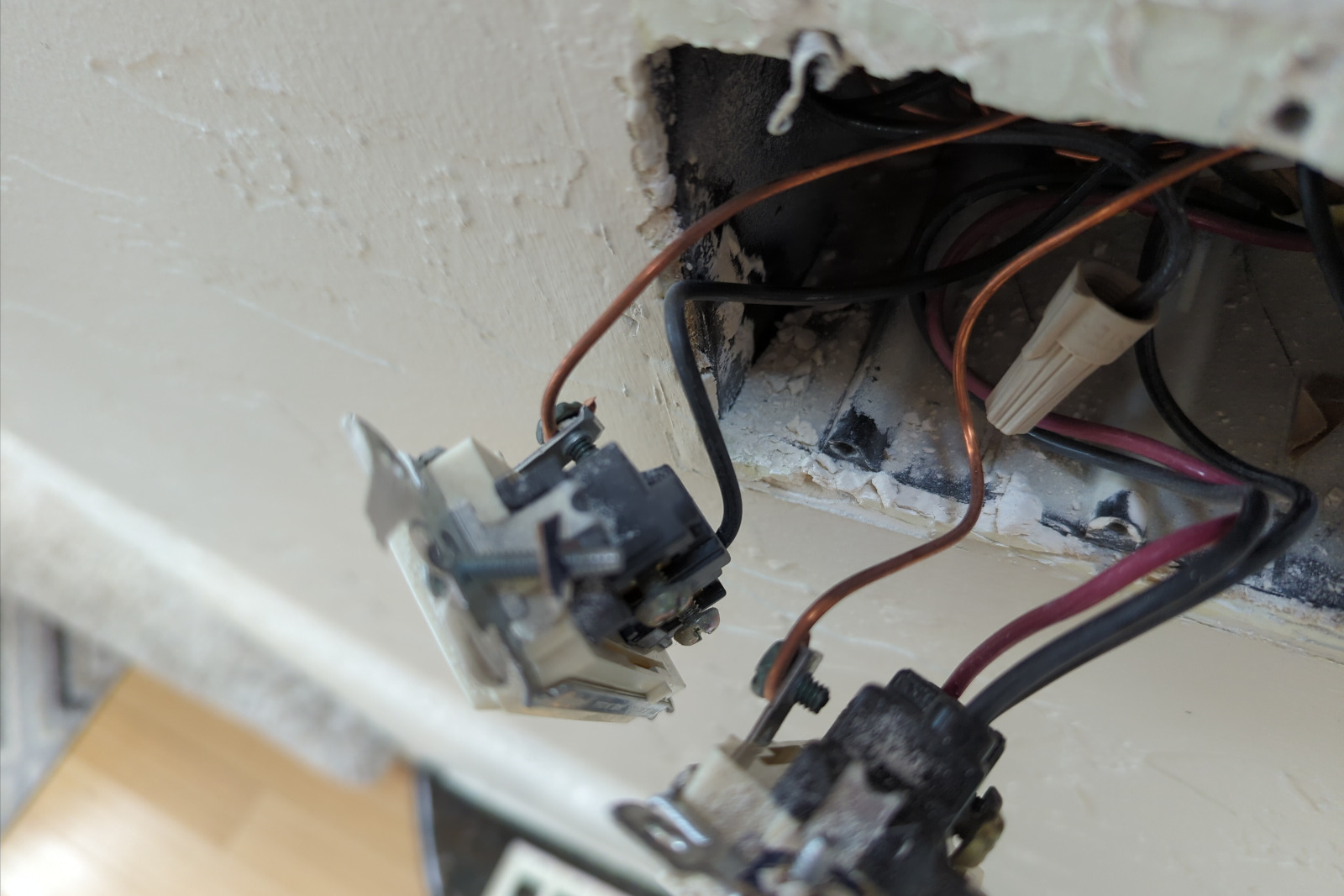 With the switches rewired and my rough speaker holes cut out, it was time for the drywall guy to get to work. He did a great job patching the hole and re-texturing everything to match.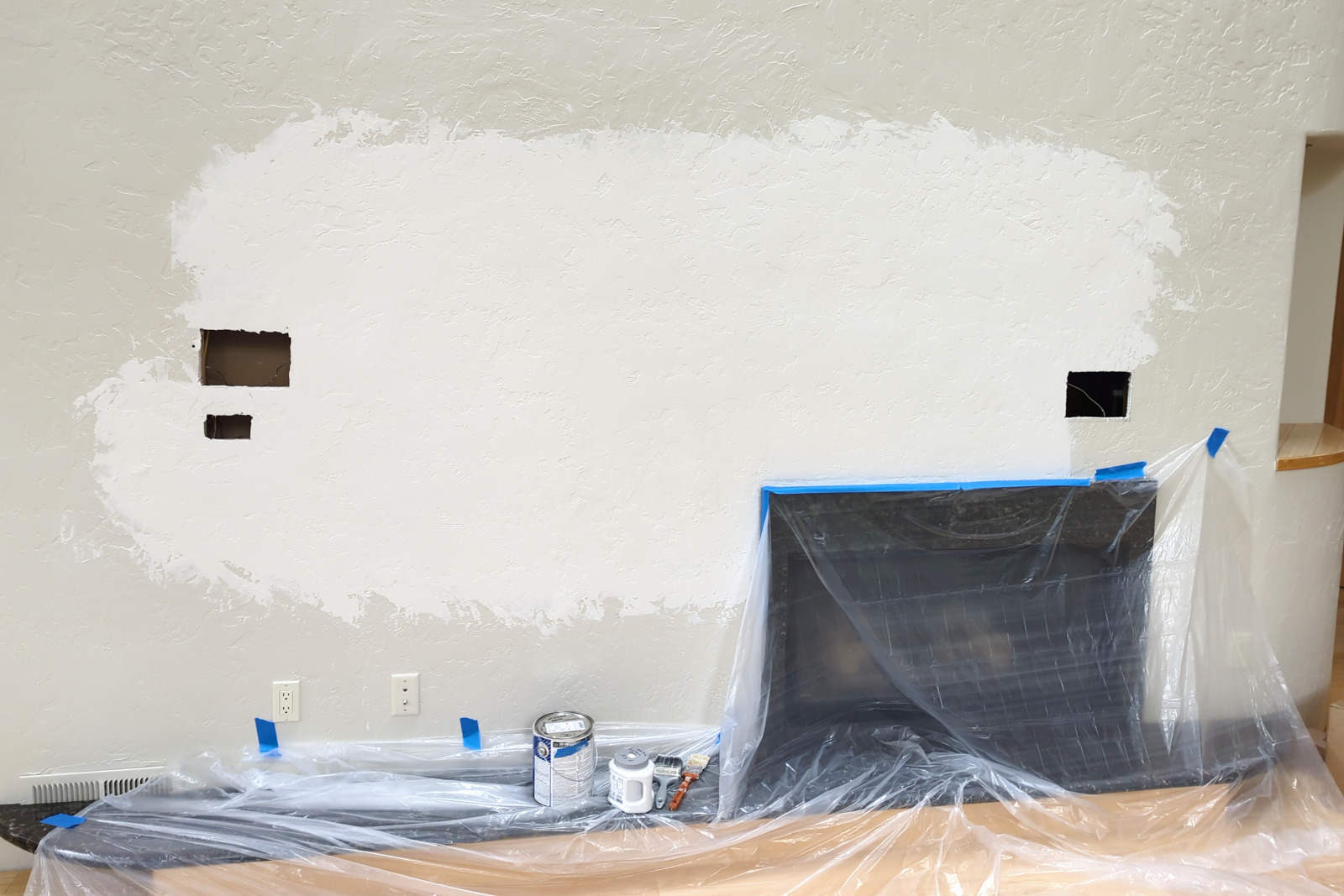 This morning I added a coat of paint, cut the final speaker holes, and installed them. Oh, and I found a cool little tube that can route cables through a wall between rooms. That's important because the stereo equipment actually sits in the closet on the other side of the wall.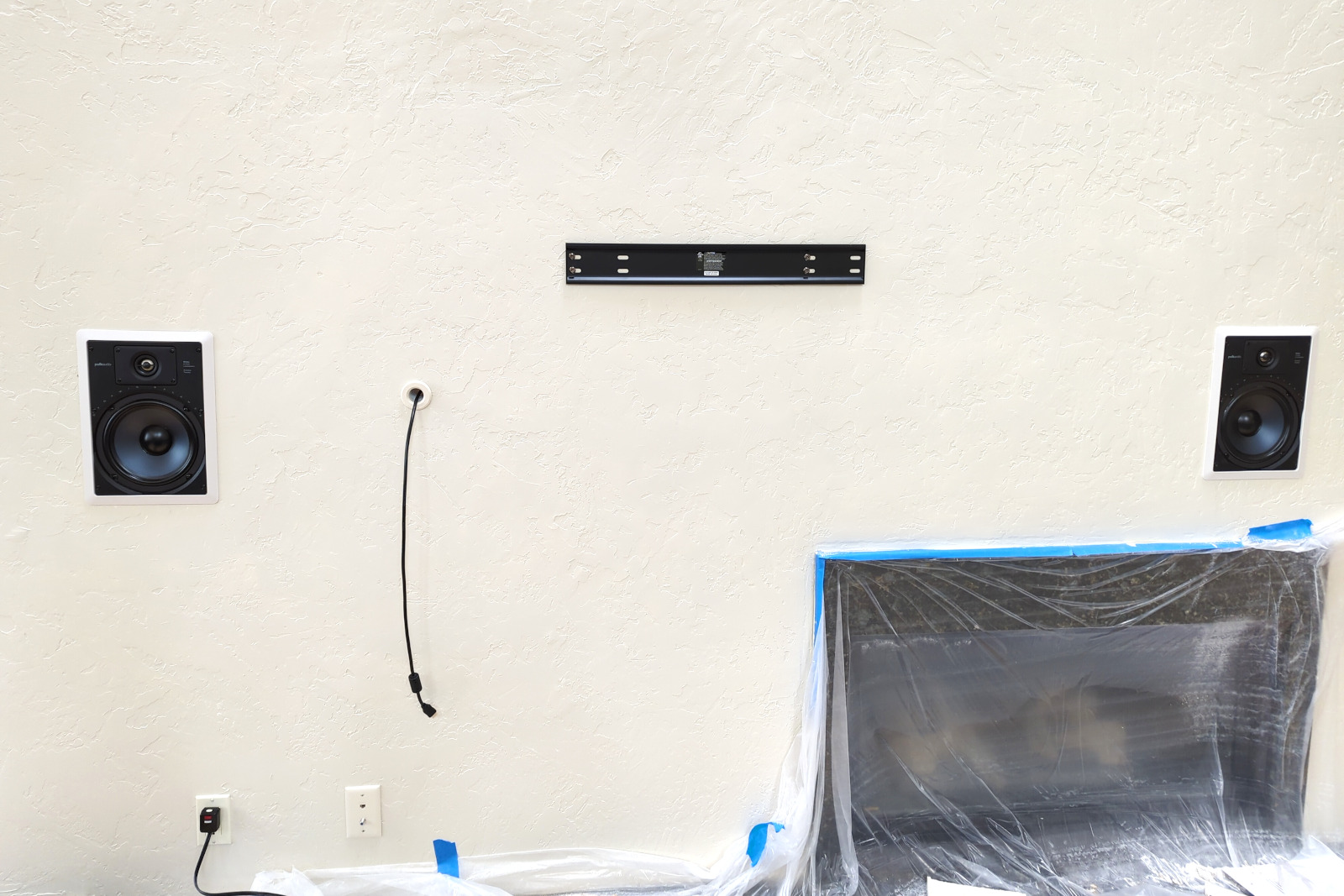 After some shenanigans with the TV mounting hardware, we had it securely attached to the wall and it was time to give it a whirl.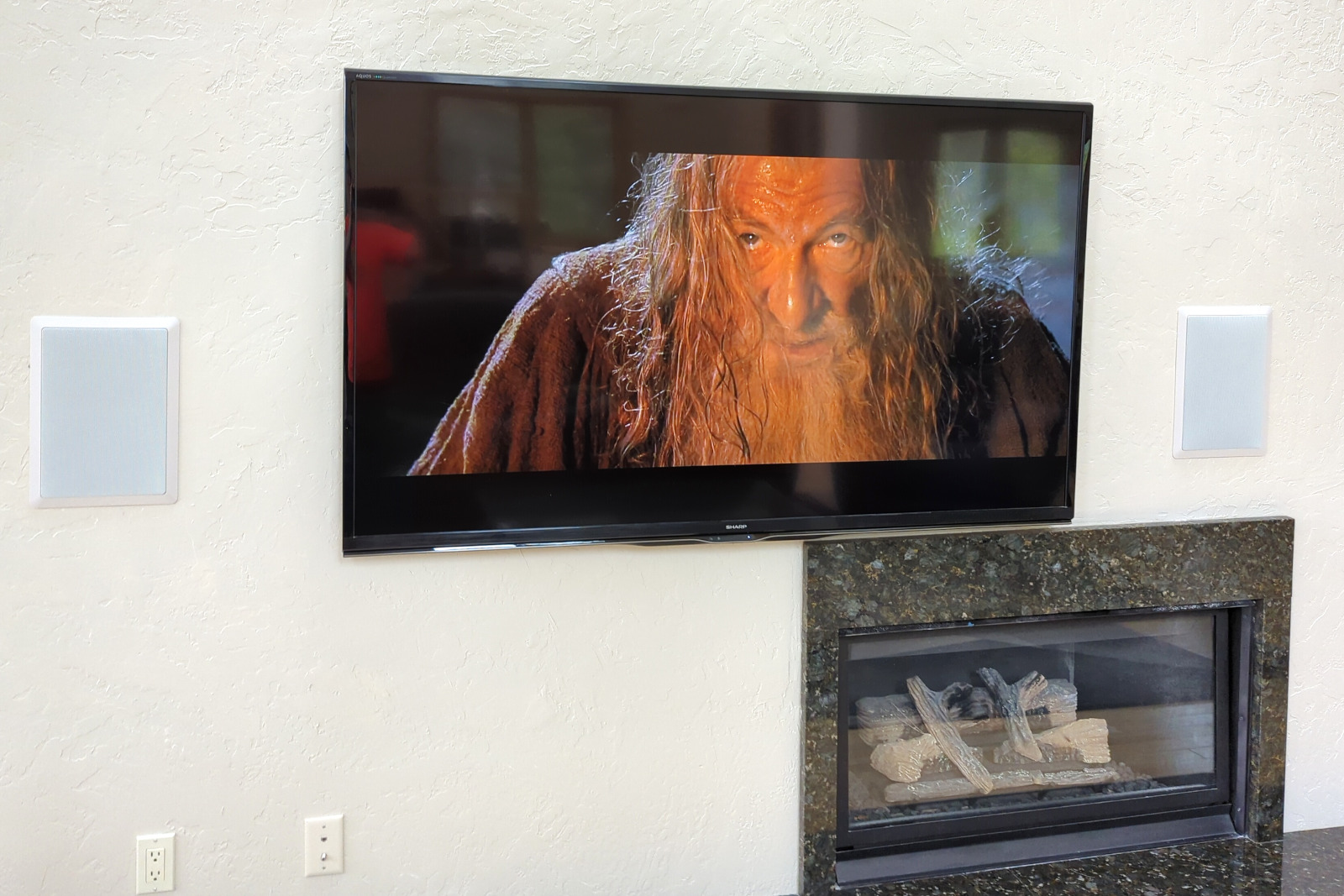 Mission accomplished! Another house project checked off my list, only two and a half years after I conceived of it…