Over the past two weeks, we've made a disappointing discovery about our house. The well we use to draw water from the aquifer beneath us can't produce as much flow during the winter months. So as we use our heat (which is geothermal and pulls quite a bit of water from the ground to function), we lose our water pressure. It's an efficient system in theory, but when the well runs low, things aren't so great.
Thus, the past two weeks have been a bit of an adventure as we've adjusted the thermostats and fiddled with the geothermal system to figure out how to have both warmth and water. Fortunately I have temperature sensors scattered around the houses! They help me to feel like something of a scientist as I figure out the right balance.
Here's a graph of the past week or so: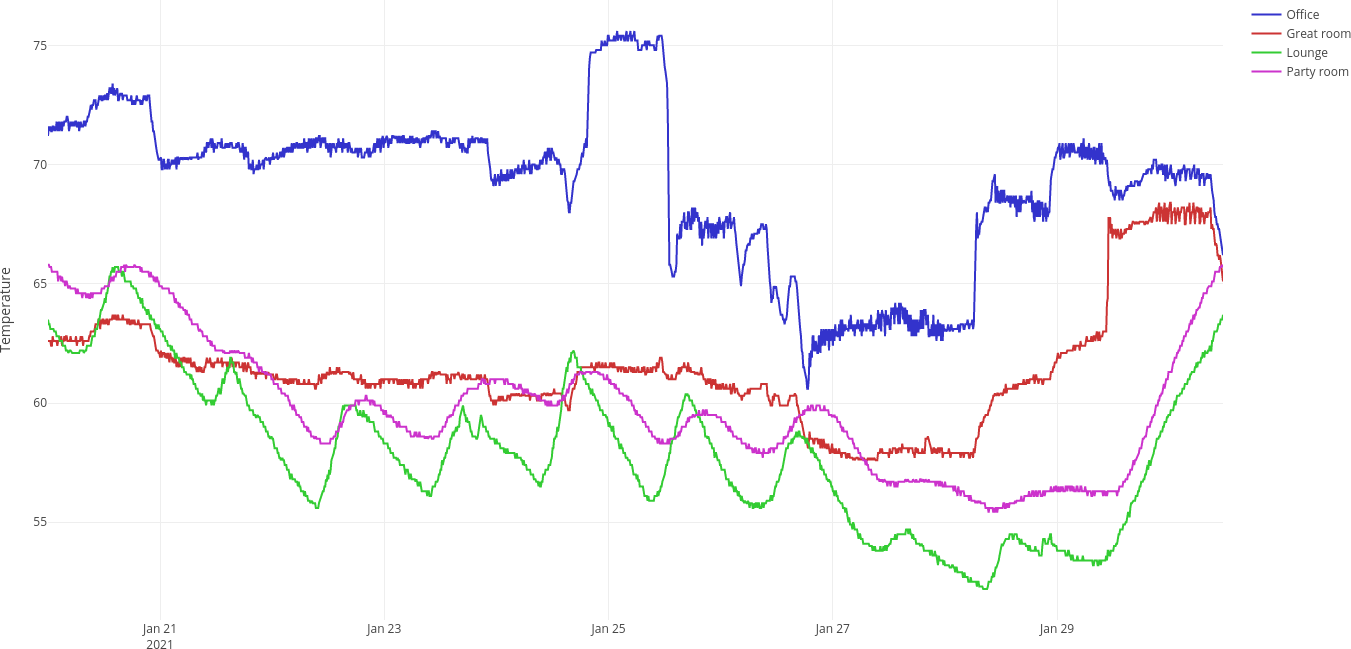 The blue line is upstairs in the office– arguably the warmest place in the house, since heat rises. I can't figure out the huge spike on the 25th, but after that we turned the heat off and watched the temperature drop. Then we turned it back on, with the thermostat at a lower temperature, to see how things went. We edged it up a couple more times, continuing our experiment. The good news is the main house is dialed in around 68 degrees, which is fine for the winter.
The red line is the great room just downstairs. Obviously it's not actually 10 degrees colder down there… I guess putting the sensor on the hardwood floor wasn't good positioning. Yesterday I moved it to the bookshelves so it'll get a better reading (meaning what we might feel walking around down there). There's still a differential of a couple degrees, but that's to be expected. All good there.
Then we have the party house, shown in pink (the main room) and green (the lounge, which has two large windows). I'm fascinated by the spiky temperatures there, and Pepper pointed out they're almost certainly due to the sunlight warming the room each afternoon. The downward trend is pretty obvious there as we basically shut off the heat to the house a week ago. However, when it was down around 52 degrees yesterday, we felt like we had to dial it back up. That's the steady climb of the pink and green on the far right.
We're still wrestling with this a bit, but I think we'll be able to maintain heat (albeit at half capacity on our geothermal condenser) and still have water. Ahh, the joys of homeownership…