Last night was the Boulder Dodgeball Benefit Tournament, which raised money for kids in Rwanda. Since I play pretty often with a bunch of friends, I figured I'd scrape together a team and have some fun. I struggled to get the six people needed for a team, so Rob and I decided to join forces.
I never told the tournament coordinator Therese what our team name should be, so she took the liberty of naming us (wait for it) "Jeff and Rob's Team". There we were on the brackets, while all of the other teams had cool names like Total Domination and Rockin' Red Pod (whatever that means). Ah well.
While driving down there, my friend James called and said he and my other friend James (collectively they're known as James #1 and James #2) were able to join us after all, and they were waiting at the gym. So I called Rob and told him if there was another team that needed players, he could hook up with them. Therese had been struggling to get enough teams, and I figured it would be best to divide up players as best we could.
Thus Rob went off to play with The Misfits, and the six of us became just Jeff's Team. Our first match was a tough one– we split the first two games of the best-of-five match, and then the deciding game came down to one-on-one. Adrian pulled out the win for us, and we advanced. We handily beat The Misfits, even though Rob managed to gun me down a couple of times. Our next match was another win, pushing us into the semifinals.
Rob's team had been soundly defeated so he was ready to head home, but I asked if he and his friend Joe would join up with us as we'd originally planned. Thus, in a happy reunion, we became Jeff and Rob's Team once again. We crushed our next opponents to advance to the final round.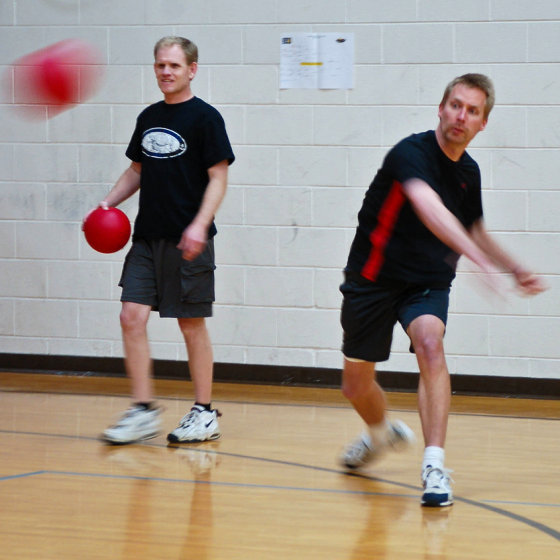 Photo props to Rob
By this point my arm was like quivering tapioca; in retrospect I shouldn't have played the hour and a half dodgeball game on Wednesday– I hadn't fully recovered yet. Dang this old age.
The team we'd played in the first round had won all of their games in the loser's bracket, and we faced them in the finals. Once again we went to 2-2 and had to play a final deciding game. We lost. Since it was a double-elimination tournament, it meant we actually had a second game against them again (both of our teams had only lost once total) for the true championship.
Again, we split the first four games and it came down to a high-pressure game for all the marbles. Things went back and forth, and in the end we emerged triumphant: the tournament champs. They were a great team, and clearly we were very well-matched. Good times for all.
So I went home with a sweet, sweet trophy that probably cost $3.95 at Bob's Corner Sporting Goods. But hey, the money was for the kids, so it's all good.