Just got back from the USA Ultimate national championships, being held in Boulder this year. This is the Masters' Series (as opposed to the Collegiate Series) where all players are at least 30 years old. I was one of the official scorekeepers, which was a lot of fun and made me really pay attention to the game since I had to record turnovers, defensive plays, assists, goals, etc. There are some top-notch teams competing, and it's always fun to watch ultimate at the national level.
The best: one of the womens' teams I was watching had a player who couldn't have been younger than 60. She had grey-white grandma hair, big glasses, and looked like she'd be more likely to make a nice glass of lemonade than huck a disc fifty yards. But she was out there yelling to her team, talking smack, and throwing like a bullet. I can only hope when I'm 60 I have that same kind of spunk.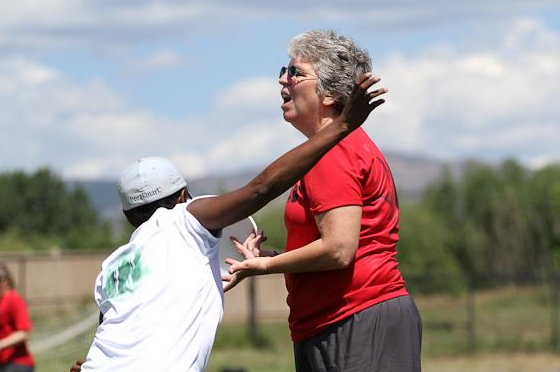 Update: I found a picture in the post-tournament wrap-up. Looks like she's wondering why her receivers aren't making any good cuts.