Tonight was the GRU summer ultimate league draft. As always it was a lot of fun picking players for my team this year. This is my twelfth year in GRU and it's always an awesome part of my summer. I've been a team captain for many years, but decided last summer to take a break and let someone else run the show. As it turned out, I found that I missed it so this year I volunteered as a captain again.
Once again I asked the lovely and talented Brenda Gallagher to be my co-captain. I played with her my first year in GRU, back in 1999, and I've been on her team five times since then. That's pretty rare considering the number of people in the league and the turnover every year as old-timers "retire" and new players join up. But I love playing with her, and this will be our third season captaining together.
Here's a shot of Brenda last year as she writes our team cheer: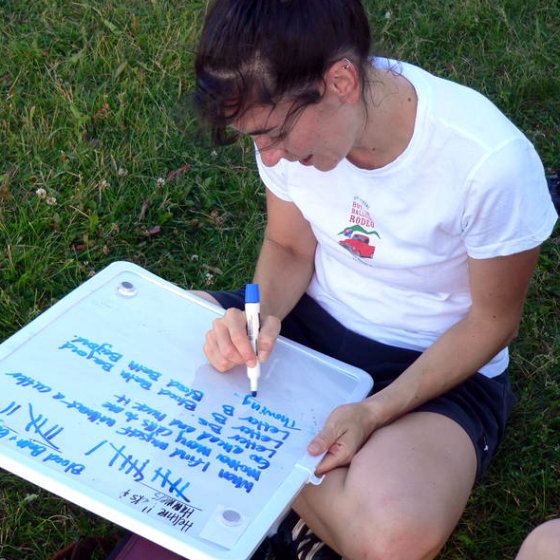 At the end of every game each team writes and performs a cheer for the other team. Win or lose, we sing a goofy song or write a poem or limerick or just come up with something witty and complimentary. Yeah, it sounds like something you'd see in the six-year-old tee-ball league, but it's actually a lot of fun and completely embodies the spirit of GRU– and ultimate in general. We're out there to have a good time with friends on a beautiful Colorado summer evening.
I can't wait.