On Tuesday, I took Alex and Zack to Lyons Pinball, which is a little hole-in-the-wall place in Lyons (about 10 miles west of Longmont).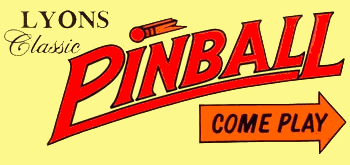 They have maybe 40 pinball games and a few old arcade games as well. We each had five dollars' worth of quarters and managed to get an hour of entertainment out of them. It was a lot of fun to play some old-school solid-state pinball games as well as newer ones that were electronic and had a lot of effects and "missions".
Growing up, my good friend Aron had a pinball game in his basement and we had endless hours of fun playing it on poker nights. I always thought it would be cool to do the same thing.
Tonight, the boys and I went over to Roger's house. He has three pinball games in his almost-renovated basement. The nice thing about them is they don't require quarters, heh. So we played for about two hours and had a great time. Now Zack keeps asking when we're going to get a pinball game of our own. He's really quite good– some kind of knack for it. Alex doesn't do quite as well so he gets a little frustrated, but I think he'll catch the bug if we play a few more times.
Now I'm off to Craigslist to see what might be available…