On Friday night we hosted our mostly-annual neighborhood s'mores night. We invited a bunch of people to our backyard, where we had a fire pit, a bunch of camp chairs, and a table full of marshmallows, chocolate bars, and graham crackers. A sure recipe for fun.
The party lasted a couple of hours and then the adults went home while the kids set up tents and camped in the back yard. They had music and dancing… well, the girls did; the boys huddled in their tent and watched YouTube videos or something. It was a gorgeous night: a little cool but not bad, with a few clouds. Unfortunately for them, around 5am Saturday morning the wind started howling. The tents collapsed and the kids all stumbled inside to sleep fitfully for another hour or two. Since they'd all stayed up until well past midnight and then been awakened a bit suddenly at five, it made for a long and somewhat grumpy Saturday.
Anyway, it was a success as usual. We had quite a bit left over, so for the past two nights I've cooked up my "indoor s'mores" and enjoyed them thoroughly. I start with the raw materials: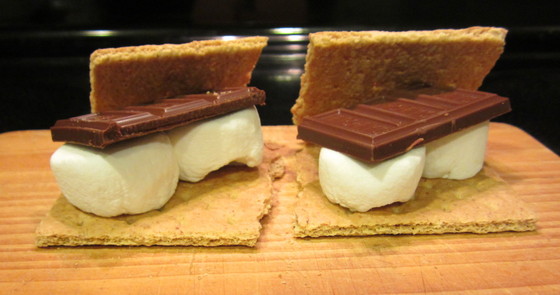 Then I pop them in the microwave on low heat for about two minutes, chuckling at bit as the marshmallows slowly expand, then contact, then expand again (why do they do that?). Finally, the finished product emerges: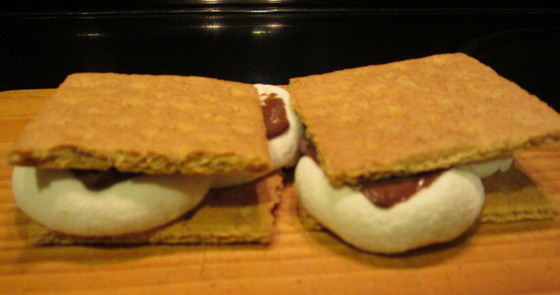 Of course it's an absolute mess to eat– I end up with chocolate smeared on my cheeks and melted marshmallow on my fingers. But hey, it's all worth it.