Two months ago. In a planning meeting at church, a group of us decided to host a variety show. Anyone who'd like to showcase their talents– whether they be singing, acting, playing an instrument, or just bringing some art or photography– would be invited to participate.
One month ago. In a different planning meeting with the teenagers in the church youth group, someone suggested that it would be cool if all of the kids (about thirty of them) created an act for the variety show. In the past, large group acts by the teens didn't turn out so well. They have a hard time coming up with original material, and many of the jokes that seem hilarious at the time end up falling pretty flat. So I sort of cringed inside at the idea, but I put on my brainstorming cap and thought about how we might pull it off. Finally, inspiration struck and I suggested that perhaps all of the kids could get together and do a dance number to Michael Jackson's classic "Thriller". I had visions of YouTube videos (there are a lot of them) where the groomsmen at a wedding do the dance, or a flash mob springs up, and so on. They always seem really fun, and the dance seems pretty straightforward.
One week ago. My friend Talise volunteered to work on the dance and organize a practice. She's very musically inclined and incredibly talented, so she was a natural choice. She found a web site called Thrill the World which is dedicated not only to teaching people how to do the dance, but has apparently become an annual event where thousands, or perhaps tens of thousands, of people plan to dance at the same time. Who knew.
Tonight. Thirty teenagers and about a dozen adult leaders– including me– gathered in the church gym to practice the dance. Talise went through all of the steps from the Thrill the World guide. It seemed like there were about two hundred of them. I had no idea "Thriller" was so complex. As you might expect, the twenty or so girls (including Kyra) picked it up pretty quickly and actually looked relatively synchronized. Meanwhile, the ten boys (including Alex) and most of the adults struggled to keep up and looked pretty lost.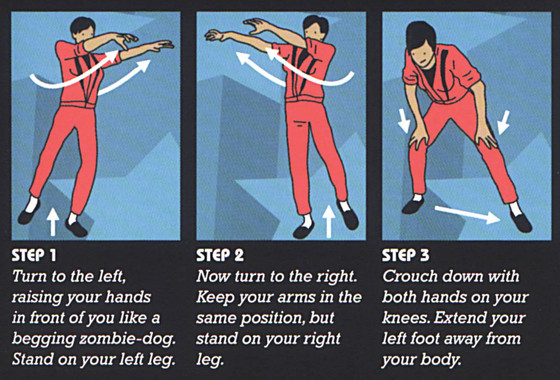 A week and a half from now. We're going to perform at the variety show. We've all been asked to wear dark pants, a white t-shirt, and (of course) a white glove with sequins. It will almost certainly be a night to remember. I suspect it's going to look like thirty epileptics who are off their medication, lurching around, while Talise and a few girls do something relatively "Thriller"-like and everyone else can't remember whether the next step is the "roar" move or a Michael Jackson "kick and point".
It'll definitely provide funny stories for a while.