Today at lunch, five of us at Zing went out to play some disc golf. This was my first time ever playing, and I felt a little intimidated by Noah (who'd played in college), Brent (who'd played before someone's wedding?), and Ben (who seemed to know a lot about the game). Nick hadn't played before but brought his own collection of discs, as did the others. I was the only one without the specialized "drivers" and "mid-rangers" and "putters". I brought one of my standard 175g ultimate discs, but was politely informed that it's not kosher to use those in a game of disc golf.
There's a little course in a local park, and about half a dozen other people were already there playing. It was a beautiful day. The game began, and we all laughed as various throws veered way off course or splashed into the nearby creek or hit trees.
I took a few pictures with my phone (ugh) but none of them quite captured the true thrill of the action.
Nick watches his drive soar, although if I didn't know better it looks like he's testing some hip new dance moves: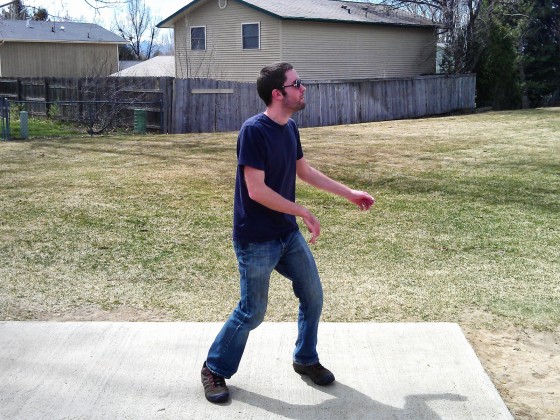 I almost got the shot of the disc leaving Ben's hand, but instead it appears he's casting a spell or something: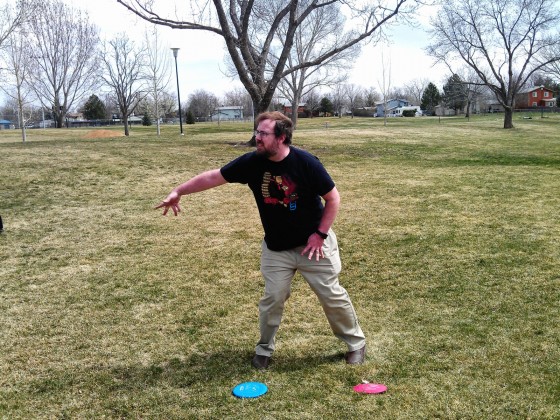 Noah demonstrates good technique shortly before clobbering a tree: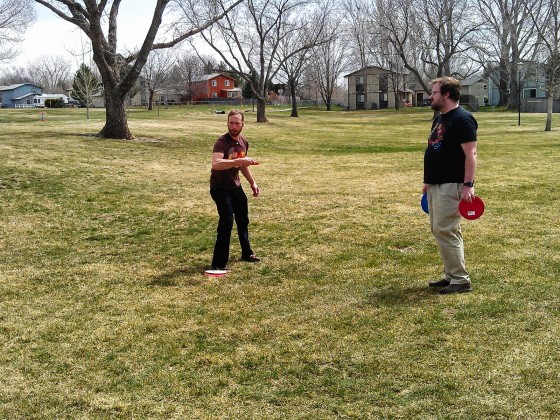 We played for about an hour and had a great time. Although it's certainly not the same as ultimate, it was fun.