I just finished a call with Comcast, and was reminded why they are consistently voted the Worst Consumer Company year after year. I found a better deal for the internet at my office: CenturyLink offers twice the bandwidth at half the cost. So I set up CenturyLink, confirmed it's working, and called today to cancel my Comcast account.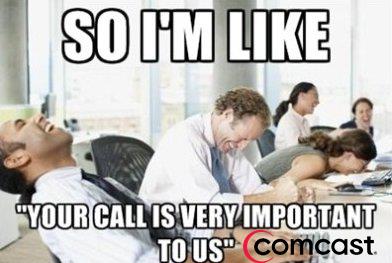 My contract expired about two weeks ago, so I figured it would be an easy matter to shut down the account. Oh no. There's a 60-day notification requirement– I have to pay for two additional months of service, according to the terms of my contract. Frustrated, I found the terms that apply to my account (after searching a bit on Comcast's site– the terms change every couple of months so you have to know the exact start date of your contract to even know which terms apply to you). I read them and found that the 60-day notice only applies when you're within your contract term.
Ha! I had them. I called back and read section 5.1 of the terms, but the woman politely pointed out that two weeks ago, as my term expired, I was automatically renewed for another year-long term. I didn't authorize that, of course, but she took me to section 4.2 where it says that's what will happen. Argh.
I explained that it's pretty frustrating and underhanded to do this, and she even said that she agreed with me and deals with calls like this all day long. However, she couldn't do anything about it, nor could her supervisor, because "That's Comcast's policy".
So Comcast, bite me. Good riddance.