Last night we had a Zing outing to the Rockies game. We started out with dinner at the Viewhouse, which is across the street from Coors Field and has a really cool rooftop area. The weather was beautiful, so it was fun to enjoy a summer evening eating and then head over to the game.
The Rockies pretty much suck this year, and I didn't even know anyone on the roster (I guess several of the more well-known players are injured now). We got off to a rough start and fell behind 2-1 in the first few innings, but then in the sixth one of their new players, Matt McBride, stepped up to the plate. He'd been called up from the minors the day before and it was his fourth Major League at-bat. With a mighty swing, he sent a grand slam home run into the left field bleachers. Wow, that's gotta make you feel pretty good.
A bit of rain gave us a beautiful double rainbow:
Here are a few of us watching the game intently while munching on some peanuts– and I guess Mike was checking whether it was past his bedtime. According to Therese, it's not officially summer until you've been to a baseball game, and it's not a baseball game unless you've bought peanuts from a vendor standing on the street corner outside the park.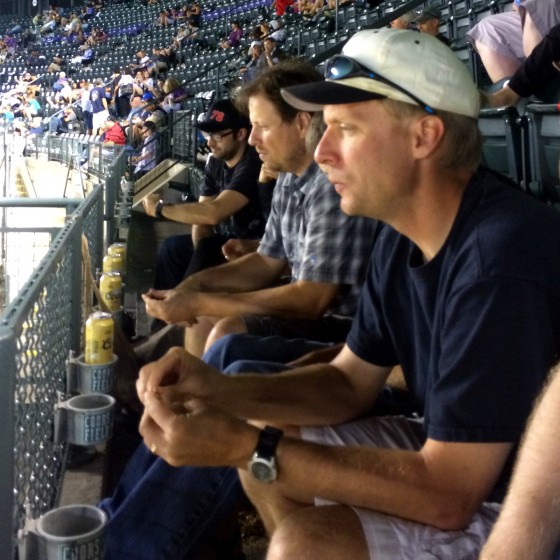 Another great Zing activity. Thanks, guys.