We're planning an epic summer trip.
It started out simply enough: we invited a couple of friends and their families to join us in Winter Park for a day of fun riding the alpine slide, playing miniature golf, and running the human maze. One of my friends suggested we get a cabin up in the area and stay the night, so I did some poking around and found a few cabins that seemed reasonable. Finding one big enough for fourteen people in all was a little tricky, but it seemed like we'd get a good deal. When our plans were set, I started making the reservations for the cabin. It turned out that one night wasn't okay– everyone wants two or three nights at minimum. Okay, with a little more conversation amongst our group we decided to go up the night before. More fun together, right?
Then it turned out there was a cleaning fee. And a damage deposit. And taxes. By the time all was said and done, we were looking at about $800 per family for two nights in a cabin, a day at Winter Park, and a couple of restaurant meals. Whoa.
Jokingly, one of my friends suggested we just take a road trip to California instead. I had mentioned that a few weeks earlier– what if our three families trucked out to the beach for a few days? Well, given the expense of our Winter Park adventure, it seemed like we could take a road trip… for a little more cash and have a whole lot more fun.
Today we sat down and started planning. By the time we were finished with our itinerary, we'd mapped a route through Zion National Park, Las Vegas, north Los Angeles, Monterey, and some lonely towns in the desolation of central Nevada.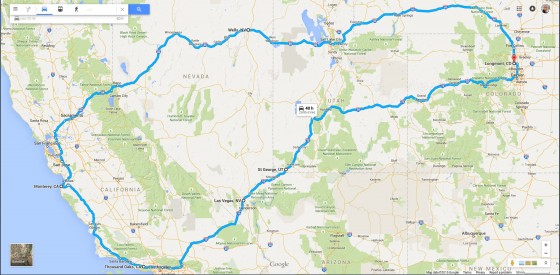 All told, we're looking at 40 hours of driving across 10 days, covering at least 2,700 miles. We'll see a bunch of awesome stuff, visit family in Utah, friends in California, and do it all in two vans (one of which is a rental). This is going to be epic.