Today was the summer ultimate league tournament in Boulder. This was my sixteenth season playing in Grass Roots Ultimate, and as usual it was a lot of fun. We were ranked fifth in the standings, out of twelve teams, so with four teams getting a bye in the first round of the tournament, it made us the top seed.
We started off strong against the first team, taking a commanding 6-0 lead. But they did an admirable job fighting back, and we eventually finished with a 9-7 win to advance to the quarter-finals.
In that game, we played one of the teams that had a bye. It's sort of a curse to have a first-round bye in ultimate tournaments, because you come onto the field without having played a game (warm-ups like stretching and tossing the disc around don't really count). You're taking on an opponent who's just won a game and is warmed up and pumped. The curse held true as we battled back-and-forth, finally winning 13-9. One of the other top-seeded teams with a bye also lost their first game.
In the semi-finals we took on the top-ranked team, who hadn't lost a game all season. That's pretty rare, and it proved they were a really strong team. Sure enough, even though we scored a few points at the start of the game, they went on a five-point rally and eventually beat us 10-4.
Because it was such a beautiful summer day, most of the team hung around afterward to watch the final game. The top two regular-season teams played a really good game, taking to a 9-9 tie before the number-two seed managed to score a few to win 13-10. Part of the fun on the sidelines was sitting there eating pizza and heckling the players.
I took a bunch of pictures, of course. It's hard to capture good "action shots" during a game, and I find that I often end up with pictures of people holding the disc ready to throw, or marking an opponent who's holding the disc ready to throw. Today I worked on different stuff, and here it is:
Off to the races!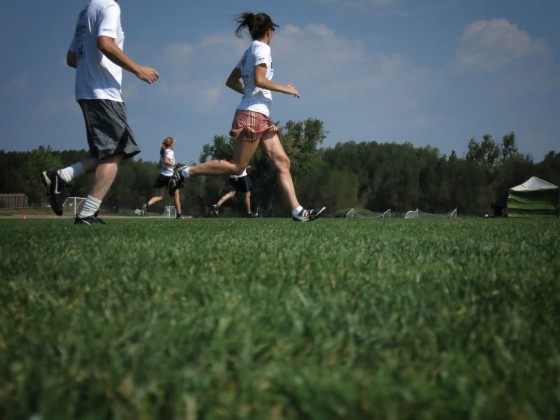 Keith demonstrates his nice high-release backhand, right over his defender: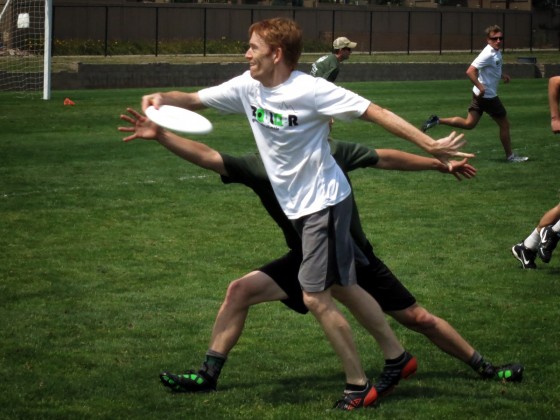 Brenda makes a great endzone catch over two women: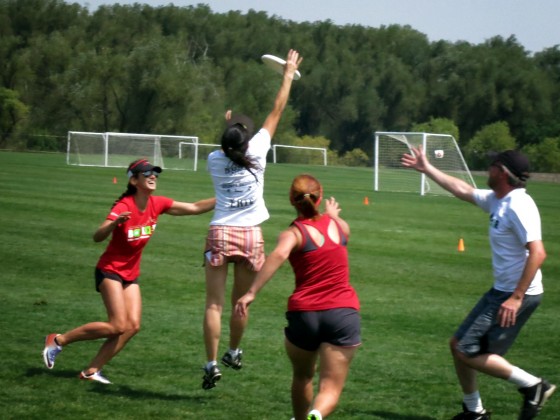 Tessa breaks through a three-person zone defense: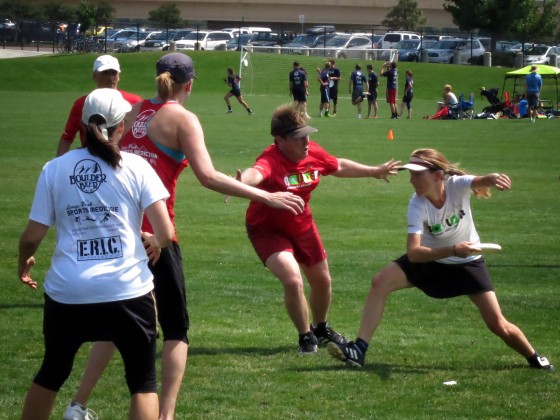 Vicki makes an amazing catch in the endzone, somehow holding onto the disc with her fingertips: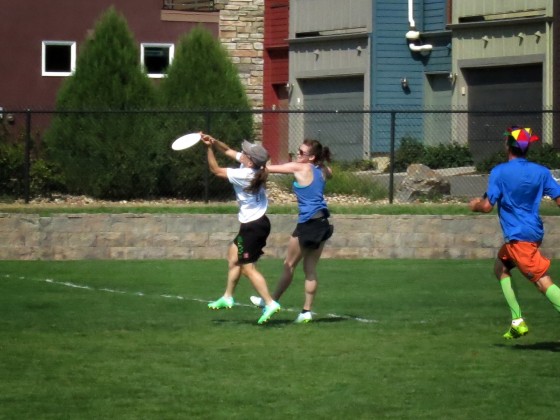 Erik makes a running catch in the background; I find the best part of this photo is Rich (on the opposing team) who was wearing a jester's cap for the whole game.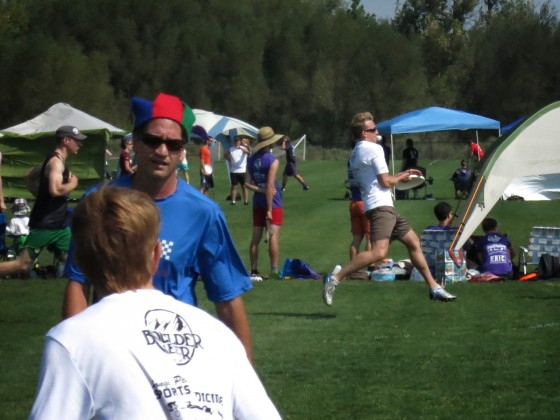 Finally, here we are celebrating our third-place finish: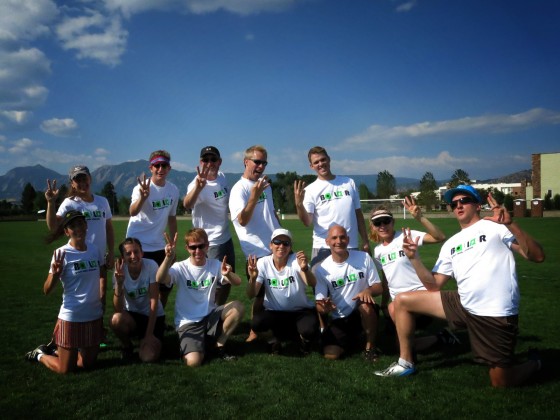 In truth, we took this picture before we even started playing this morning, which is why we look so fresh and clean. After a typical team shot, I suggested we all hold up one finger as if celebrating our first-place finish, so we took that picture. Then someone else said maybe we should do second and third as well, just in case. Heh.