Today was a surprise snow day. All of us woke up at 5:30 (as we do every day for seminary) and right then the phone rang. It was a recorded message from the school district saying school was cancelled due to "deteriorating weather conditions". I peeked out the window and it didn't look too bad. Sure, there was some snow on the ground, but I could see patches of driveway so it couldn't have been very deep.
Laralee went into Zack's room, where he was getting dressed, and told him the news. He looked at her incredulously and then, after a pause, said, "Are you messing with me?" She said it was a funny mix of suspicion and joy.
Zack waited a couple of hours and then headed over to his friends' house. There was a blustery wind that had piled up snow in some impressive drifts. He said he wasn't able to make it through the drifts, so he grabbed a pair of PVC snowshoes that Alex made about ten years ago: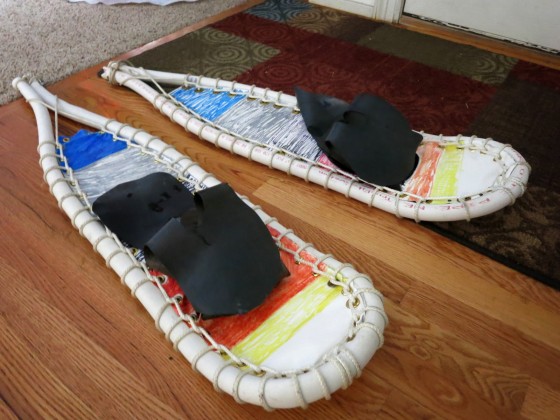 I guess they worked. Six hours later, Laralee and I went out to shovel the driveway and found drifts that were about three feet deep. Although a part of the driveway was still bare, most of it was buried in about two feet of snow. Impressive– I had no idea. It's a little hard to see the variation in depth here: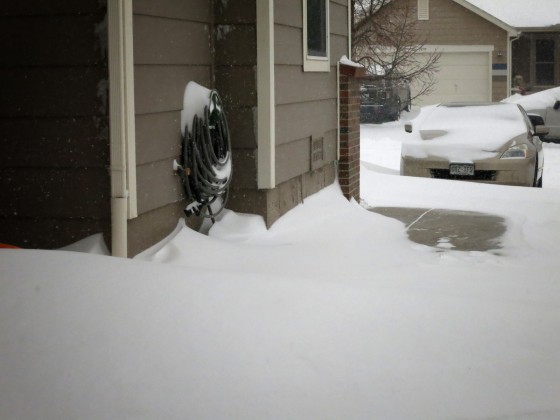 But we huffed and puffed and cleared it (curse this north-facing sixty-foot driveway!) and then took care of the sidewalks.
Kyra is relieved because she has two major assignments due tomorrow and was pretty stressed about finishing them. Now she has a whole day to work on them, and she's much happier. And it's fun for me to work at home too, looking at the two-foot pile of snow that's accumulated in the window well beside my desk.