Today was the sort-of-annual Memorial Day ultimate hat tournament down in Boulder. While 50,000 people are running the Bolder Boulder, about a hundred ultimate players are on the soccer fields battling for eternal glory. A "hat" tournament essentially means everyone throws their name into a hat, and the teams are picked randomly.  It's a fun way to meet some new people and play with old friends.
It's a four-game tournament, with two rounds for seeding and then semifinal and final games. My team won our first game handily, then tied our second one to advance to the semis. True to form, Colorado weather struck and it rained during the entire game. It made the game a bit more interesting as we slipped on the grass and tried to huck a wet plastic disc. But we managed to win that game to get to the finals. Our opponent for the championship was the same team we'd tied a couple of hours earlier. This time, however, we crushed them in a decisive victory.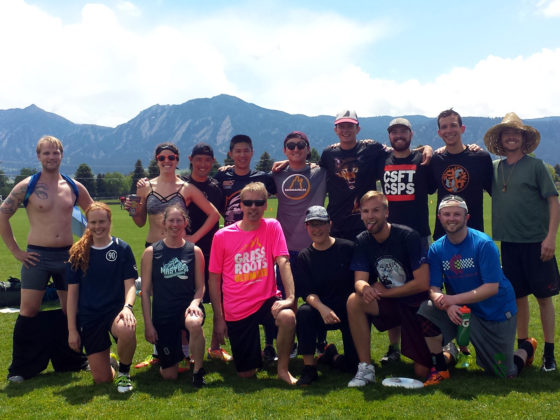 It was a lot of fun, and a great group of players. Here's to my third championship in a row!