A few years ago we went to Horsetooth Reservoir and rented a pair of jet skis for a few hours. It was a blast, so we decided to do it again this summer. We had a reservation for this afternoon, and last night Zaque learned that he'd have to work all day at his new job. I looked into moving our reservation, but there was a "no change, no refund" policy and even though the rental place was willing to bend the rules a bit, we weren't going to be able to make it work with Zaque's new schedule.
So Laralee, Alex, and I planned to go, but then just before we were leaving, Hannah texted to see if she could come over to the house and hang out, and Laralee invited her to join us. She'd never been jet-skiing before, so she grabbed a swimsuit and hustled over.
Horsetooth Reservoir is almost seven miles long, and the marina is near the southern end. Since it was a Thursday, there wasn't much boat traffic on the lake (apparently weekends are crazy). We had a lot of space to play. Alex and Laralee started out driving.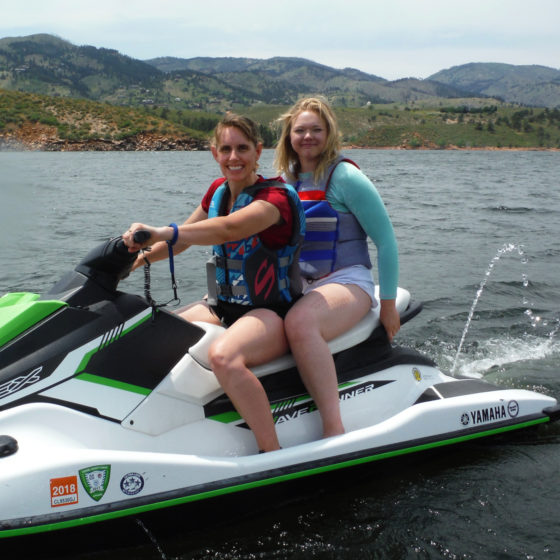 I was with Alex, and as soon as we passed the no-wake buoys he punched it and we shot out across the water. The jet skis topped out around 40mph, which doesn't sound like much until you're pounding across waves with the wind tearing through your hair.
To my great surprise, Laralee followed suit and was screaming around the lake. The last time we'd gone, she was much more timid and didn't put the pedal down, so to speak. But this time she was zipping around, with Hannah shouting and laughing behind her.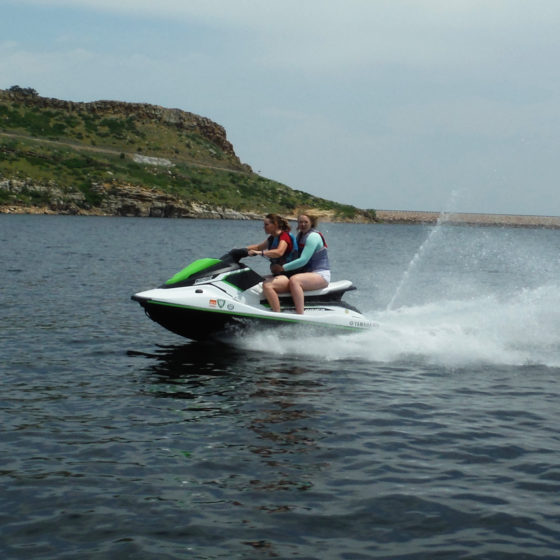 We had our waterproof camera with us, which doesn't always take great pictures, but we managed to catch a few good shots.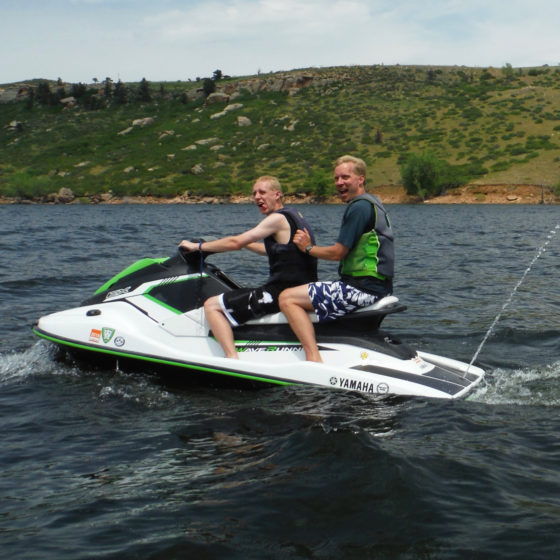 After a while, Hannah got up the nerve to drive, so she swapped with Laralee while I swapped with Alex.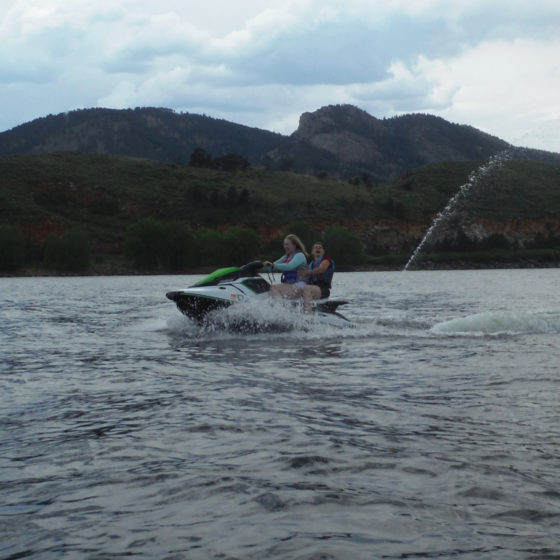 Alex and I made a few turns that were a little too sharp, and tipped the sled a few times. I figure if you don't take a couple of dunks, you're not driving hard enough. The lake water was cool, but in the hot June sun it felt great.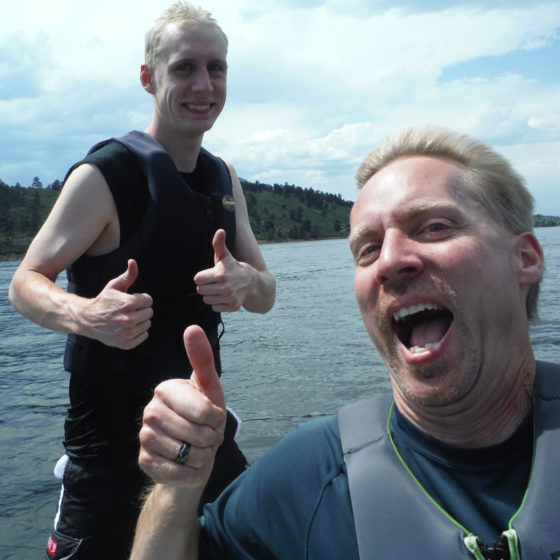 After we finished, we decided to grab dinner in nearby Fort Collins. Pizza won the vote, and we decided to go to a place called Totally 80's Pizza. Not only was the pizza really good, but the decor was awesome. It was pretty much exactly what you'd expect from a place dedicated to the pop culture of the 80's.
They had a life-size Han Solo frozen in carbonite…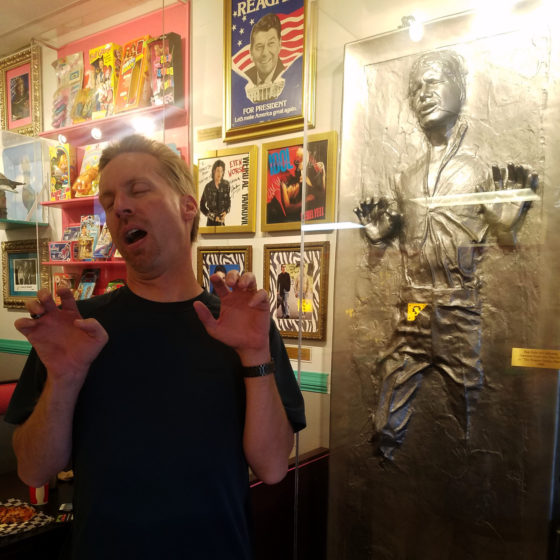 Signed photos of the cast of The Princess Bride…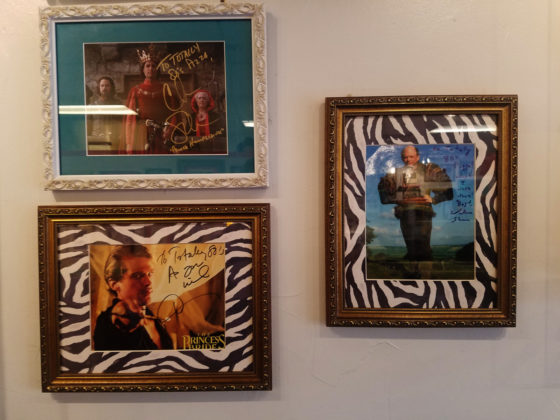 A mint-condition Trapper Keeper (under glass, because you know that thing must be valuable)…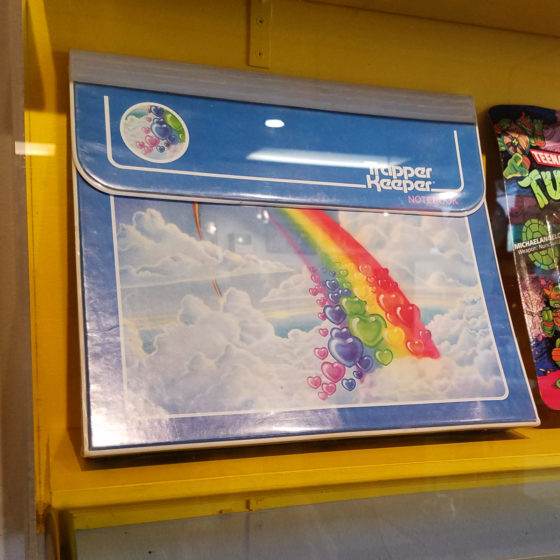 And as we finished our meal and headed out the door, I was thrilled to see my favorite line from Ferris Bueller's Day Off: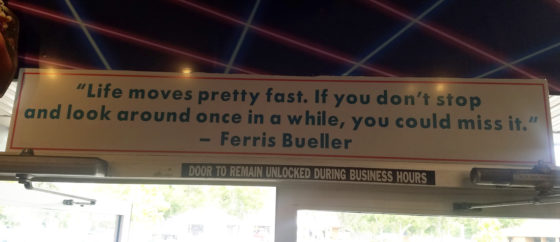 Yep, it was a great day.