Day Three in England didn't involve London at all. I spent the day in meetings again, and after we finished I realized I didn't have as much time as I'd like to head back into London for the evening, so I decided to explore Reading.
There's a 184-mile-long trail called the Thames Path that runs along the River Thames (surprise!) through a large swath of England. The river is a block north of my hotel, so I thought I'd head along a portion of the path. It was a gorgeous evening (again) and there were plenty of walkers, joggers, and bikers on the path.
An armada of ducks and swans passed me on the river. There were hundreds of them– far more than shown here– and apparently there's a little area that's a "duck and swan preserve" where fishing and hunting are prohibited. It made me wonder if, farther along the river, it's okay to blast the ducks with a shotgun or something.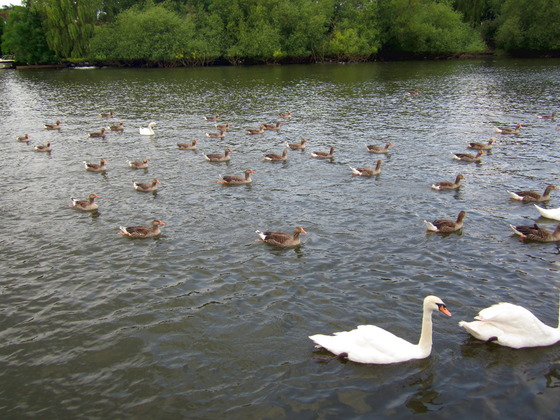 Many people with houses along the river own long, narrow boats like this one. I guess they're the British equivalent of the American RV.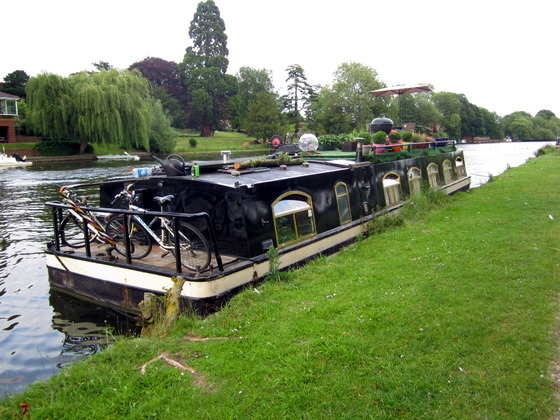 There were many people paddling long kayaks, and others sculling. Very British. Some of the houses along the north bank are amazing. They have lawns that look like the greens on a golf course and huge boats moored along the shore. Must be nice.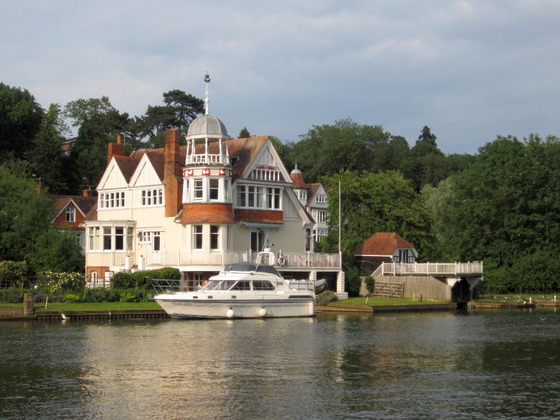 The walk was really nice. Unlike my time in London, there weren't any cars or throngs of people. It was very quiet, and the river was no more than twenty feet from the path. I walked about four miles to the next town, then hopped a train (of course!) back to Reading for a bit more wandering.