The fall Longmont ultimate league ended last night. Although it's sad to think this was most likely my last fall league here, my team was absolutely awesome. We had so much fun together. Our team name was Final Fancy D, a play on the video game Final Fantasy (video game team names were our theme this season).
In the tournament, we squeaked out a victory in the first round by scoring the tiebreaker "universe point" after the final horn. It was a great game, back and forth the whole time. We went on to the semi-finals, where we faced the top-ranked team, who had only lost a single game all season. They were clearly the favorites, and even though we gave them a run for their money, we couldn't beat their super-fast athletes and their long hucks. They went on to win the championship, cementing our third-place finish.
One of the women on my team, Jordan, brought a couple of glittery skirts and asked if anyone wanted to wear them. Although men wearing skirts was "a thing" back in the early days of ultimate, I admit I've never done it. Until last night. I donned a sparkling pink thing, and Kyle took the red one. It was hilarious, and the three of us posed after the game.
Then Kyle explained to me and Jordan that we should try posing with facial expressions that were "aroused and afraid".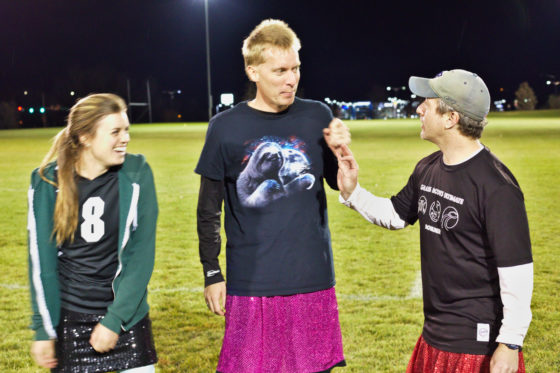 Unsure of what that meant, she and I tried it.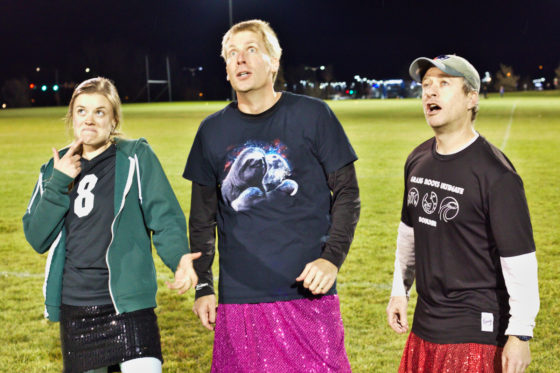 Kyle looks like he was suffering an aneurysm or something.  Jordan and I were still confused, so he attempted to explain it.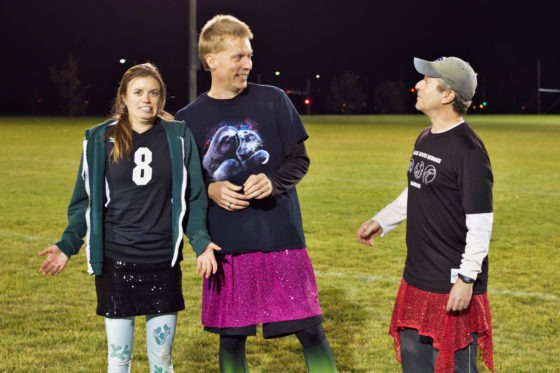 Then he thought it would be good to do some weird touchy thing.  Jordan remained perplexed.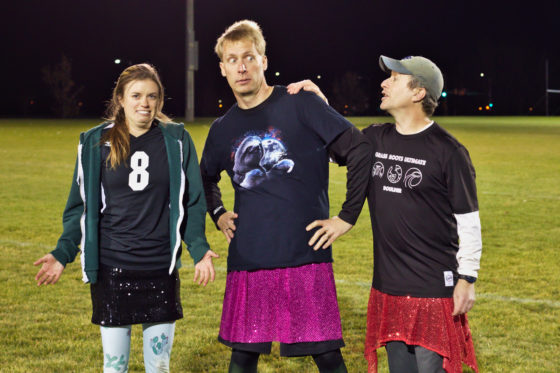 Suddenly I felt like a victim.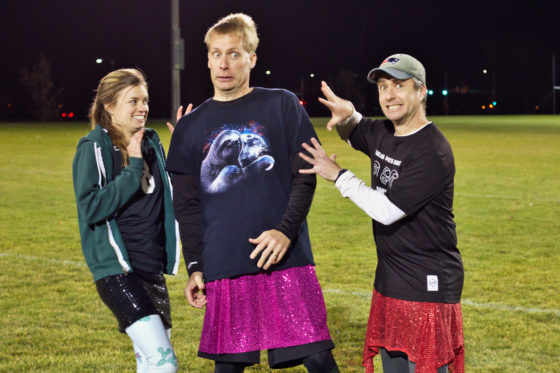 But in the end, we all stayed friends.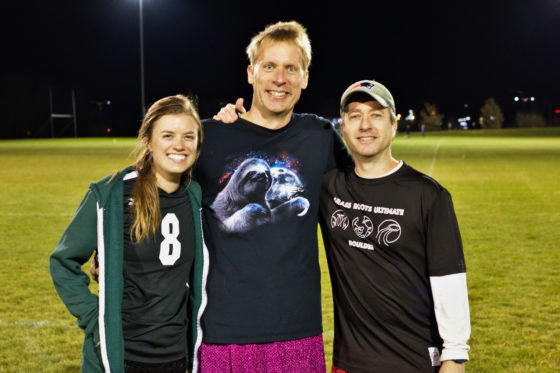 While I joked with the team that they were "definitely one of the top twenty teams I've played with", in truth they were in the top two.  We may not have won the season, but we sure had a good time together.