It's been a while since my last ultimate league championship, but apparently spring is my season. Last night my team pulled off a hard-fought battle to take the Longmont league crown.
After a crushing 13-1 victory in the quarterfinals, we fought a close game in the semifinals. Two of our five women were late arriving, so we played both games more or less savage. That was rough, and meant they were working hard on the field. By contrast, we had all nine of our men, so there was plenty of time on the sidelines. I managed to take a few nice action photos with my new toy.
Here's Shelby concentrating as she throws a smooth forehand past a screaming Malia: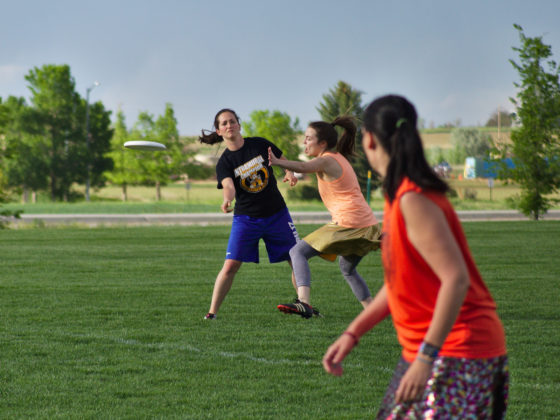 Trevor (the opposing captain) towers over Billy:
And no one out-jumps Sam. No one.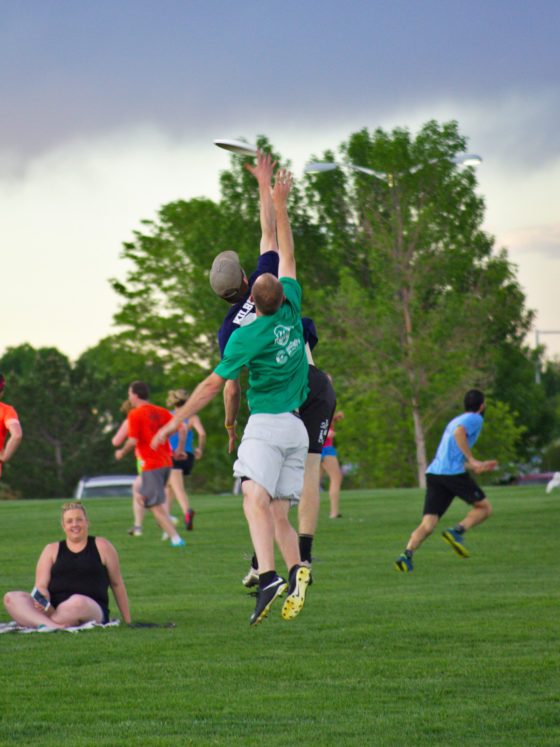 For comparison, the guy in green is about 6'4″, and Sam is clearly a good six inches above him to get the disc. As an aside, Sam was my "mystery pick" at the draft… he moved here from the East Coast, so no one knew who he was. Not surprisingly, he sort of hung around on the draft list until the later rounds (everyone picks people they know and feel will make a good addition to their team). As it turns out, he was arguably the best player in the entire league. Good pick.
In the final game, we traded points for a while and then pulled away, finally winning a decisive 12-6 game late in the evening. We played like a well-oiled machine– everyone contributed, and everyone had a grand time. This was one of the best, most fun teams I've been on.
At the end of the night we posed for our championship photo: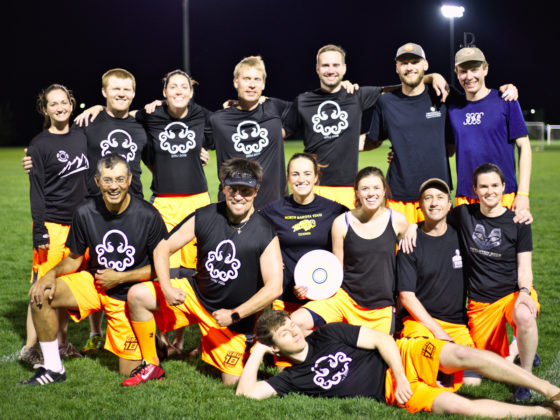 And of course our goofy shot: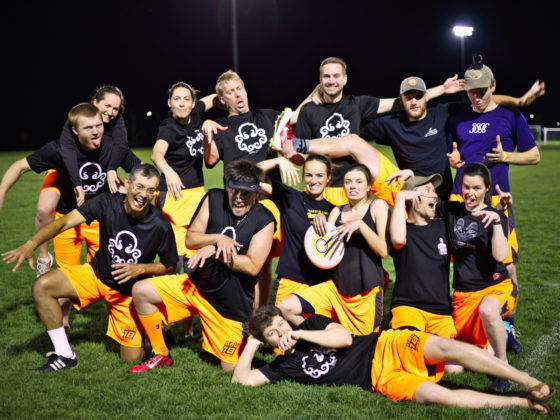 We were imitating our team mascot, the Chthulu, which is a demonic tentacled monster from the ocean deeps. A note of explanation: at the start of the season, it was decided by a vote of the captains that our league theme would be "mythical space monsters", so each team came up with a crazy mix of space and monsters. When I asked Zaque for an idea, he suggested Chthulu, and I turned it into Cosmic Chthrewlu (see what I did there?). We decided to print some custom t-shirts just for our team, too. Wicked fun.
Good times, a good season, and now I can look forward to the summer season in a couple of weeks. Man, I love this sport.